Following the strategy of "Windows as a Service," Microsoft has pushed out a number of Windows 10 builds for the Insiders program after the operation system's launch in July. The latest build at the time of this post is build number 10565. Microsoft is expected to deliver a major update for Windows 10 sometime this November. If you're a Windows Insider, you'll get the taste of new features beforehand. Otherwise, at dotTech, we'll continue to cover new tips and tricks on every new build of Windows 10 so you can have an idea about what coming up in official releases.
In today's post, we'll show you how to change the title bar color. This feature is available since build 10525.
You may remember that we've covered this title bar color thing long before. But what we did was a trick because Windows 10 RTM (build 10240) only has white title bar. Due to high request, Microsoft has added a toggle to the Settings app to let you color your title bar.
The easiest way to get to this setting is right click on your desktop and select "Personalization." In the Settings app, choose "Colors" on the left. What you're looking for is under the color pallet. It's a toggle reads "Show color on Start, taskbar, action center, and title bar."
Once you got it enabled, your Start menu, taskbar, action center, and title bar will have a color of your choice. At this time, it's not able to show color on just a title bar or on just one of the things listed. Let's hope there will be this option in future builds.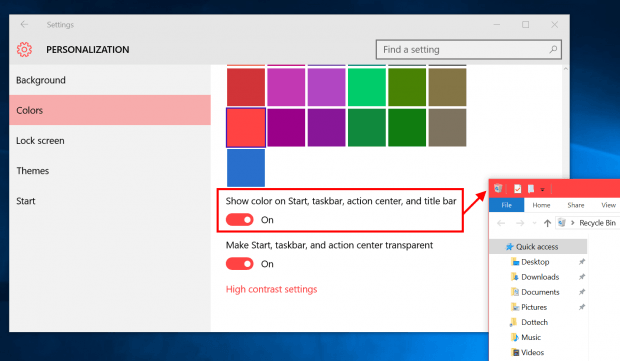 Related Posts