We have covered quite a few guides on dotTech regarding problems upgrading to Windows 10. If you decide to upgrade to Windows 10 in the future and have problems doing so, whether with downloading or installing Windows 10, there's a new tool called the Reset Windows Update Agent.
After downloading the Reset Windows Update Components Tool you are then able to scan, detect and repair corruptions with the Windows system image, reset Windows update components, delete temporary files,  scan all protected system files and replace any corrupted files, change valid values in the Windows Registry, and clean up superseded components.
The aforementioned features are the main features and main reasons for using the Reset Windows Update Components Tool, but it can still do more. With the same tool, you can also search for new Windows Updates (handy with the large update coming), restart your computer, open Internet Explorer settings and explore for solutions either locally or online.
HOW TO RESET WINDOWS UPDATE IN WINDOWS 10 BY USING THE RESET WINDOWS UPDATE COMPONENTS TOOL
1. Download the Reset Windows Update Components Tool from this link here.
2. Right-click over the file when you have downloaded it and choose the "Run As Administrator" option.
3. Click the "Y" option once you see the following screen: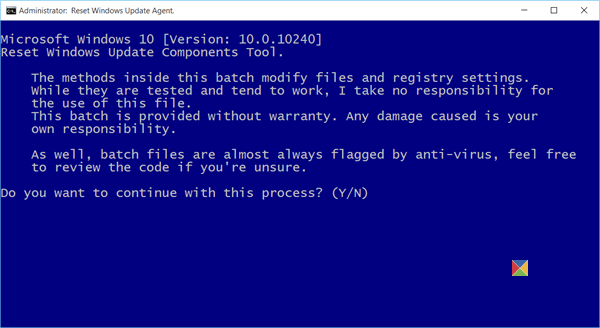 4. Once you press the letter "Y" and the "Enter" key, you will get to the next screen we have below: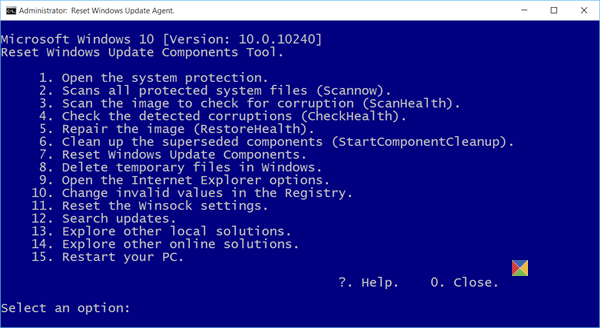 5. All you need to do is select an option by choosing the corresponding number on the side of that options. For example, if I wanted to change the invalid values in the registry, I would press 10.
6. If you press option 4 (check the detected corruptions), you will get the following screenshot appearing: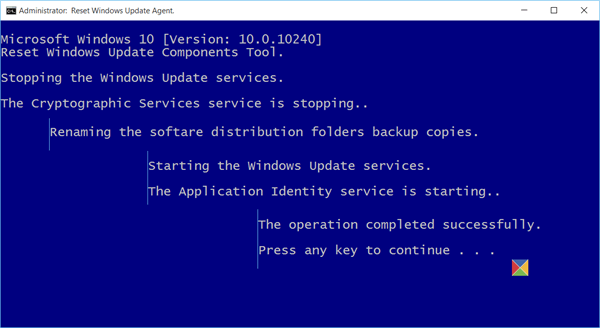 Regardless of the operation you choose to carry out, you should get the option to press any key to continue and head back to the main screen where you can choose a different option. Arguably the hardest part about using the tools is knowing exactly what you need to fix. While pointing your problem might not be easy, going back to the main menu and choosing a different option to run is and therefore that's what you might prefer doing when you don't know how to pinpoint your problem.
As you can see, the Reset Windows Update Components Tool is incredibly easy to use and will help anyone who has problems installing and updating to Windows 10.
Related Posts