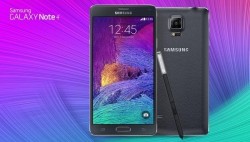 Contrary to popular belief, the Download Mode on the Samsung Galaxy Note 4 smartphone is not a maintenance mode, but rather a mode used for updating a Samsung device. Once you get the device in download mode, you are then able to flash files using the Odin flashing tool, or potentially any number of other tools that may become available. Some common examples of files to flash with a Samsung Galaxy Note 4 in download mode include custom recoveries, rooting files and software updates (firmware files).
REQUIREMENTS
The following guide works well for the Samsung Galaxy Note 4 device, as well as most other Samsung devices.
BEFORE WE BEGIN
You might want to back up your Note 4 data before starting the steps to reach download mode depending on what you want to do with your device after getting in the said mode. In most cases, it's best to back up regardless of what you are doing when it involves flashing files.
Download the Helium app from the Google Play Store to back up your apps and other data. You can also use the built-in backup features that come with your Note 4 device. Try to make copies of the pictures, music, video files, settings, text messages and phone contacts.
HOW TO ENTER DOWNLOAD MODE ON SAMSUNG GALAXY NOTE 4 SMARTPHONES
You must start with the device off. On Samsung device's, that's easy to achieve: press the Power button once and look for the button to switch it off from the Device Options menu.
– those of you with an unresponsive Samsung Galaxy Note 4 display can long-press the Power button instead and it will turn it off. The additional powering off option is there just in case your screen is not responding, so don't be afraid to turn it off this way.
Once you know the Samsung Galaxy Note 4 is definitely off, reboot it by holding the Power + Home + Volume Down buttons.
Keep holding the three button combination until the screen changes and you can see the yellow text and warning triangle on the display.
If you read the screen, it should say to let go and press the Volume Up button just once to get the device in download mode. Do that now.
Your device will get past that warning triangle and you are ready to connect to the computer using the USB cable.
In conclusion, that's all you need to enter download mode on Samsung Galaxy Note 4 smartphones. You can go back to the guide you were using before or continue with the steps you know to follow.
Related Posts