Windows Spotlight is a feature that shows random beautiful pictures on your lock screen. So everytime you boot up your device or after one or two days, you'll see a different picture. The feature was introduced earlier in Insider builds but was pulled right before the official launch of Windows 10. Now it comes back with the November update. In this post, I'll show you how to enable it and how to extract those pretty pictures.
How to enable Windows Spotlight
Windows Spotlight setting lies in the Lock Screen section of the Settings app. The fastest way to access it is by right click on the desktop and select Personalize.
In the Settings app, select Lock Screen on the left side. Then select "Windows spotlight" in the drop-down menu of Background. And that's how you enable Windows Spotlight.
How to extract Windows Spotlight pictures
Windows Spotlight works by downloading a couple of wallpaper pictures to your system then shuffling them on your lock screen. The picture files are saved in the feature's own location and unfortunately, they don't contain image extensions like jpg or png. However, you could just add the extension to them and you'll have usable images. Here are the steps to do all of that.
First, go to your system drive, usually C drive, and create a folder named "images"
Hit Windows + R, enter the path below and hit enter.
%localappdata%\Packages\Microsoft.Windows.ContentDeliveryManager_cw5n1h2txyewy\LocalState\Assets
In the folder, you'll see a lot of files. Just copy those files to the "images" folder created above.
Now you need to run Command Prompt by right click at the Start button and select "Command Prompt."
Execute two commands below one by one. They will help you add the ".jpg" extension to all files in the "images" folder.
cd\images

ren *.* *.jpg
And you're done. You'll notice that not all files in the folder are picture files and there are also some assets files of the feature that are not those wallpapers you want. Just ignore them and copy the beautiful ones for your use and enjoy!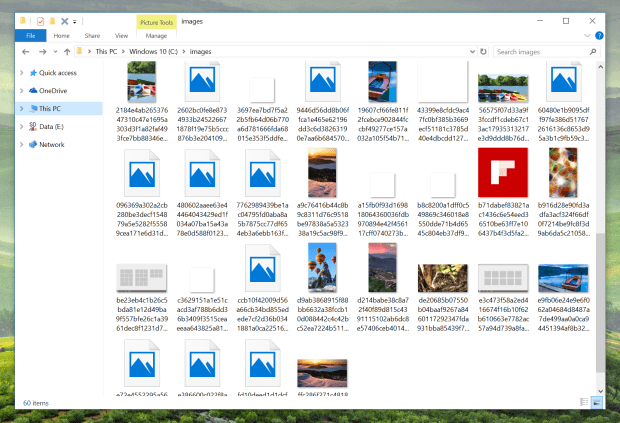 (Via WinAero)
Related Posts