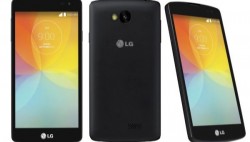 Taking a screenshot on LG F60 smartphones is one of the easiest things to do. You might want to take a screenshot on LG F60 devices if you are browsing the web and see something cool you want to show your friends. Social sharing buttons are handy but they don't let you pin point an area on a page for your friends to see.
There are many ways one can take a screenshot on LG smartphones and the LG F60 is no different. We will run you through the most common methods, including using the hardware buttons on your device that you use every day and applications available from the Google Play Store. Anyone can take a LG F60 screenshot by pressing the hardware buttons — it doesn't matter if you are using a locked Android operating system or rocking with root access. The same goes for installing apps from Google Play; however, some applications are available for rooted users only while anyone can use the other apps that don't require root access to the internal file system of your device.
HOW TO TAKE A SCREENSHOT ON LG F60
Turn on the smartphone and have the picture you would like to capture on the devices display.
Press the Volume Down and Power buttons simultaneously until you hear a shutter sound.
That shutter sound coupled with the screen dimming are letting you know that your device is taking the screenshot.
You can now navigate to your photo Gallery app and open the screenshots folder to find the image you just captured.
Those of you preferring to use applications from the Google Play Store can download the Quick Memo app.
Once you install the Quick Memo app on your device, swipe down from the notifications to reveal the Quick Memo button.
Tap that Quick Memo button to capture the screenshot at any time.
We already mentioned the Quick Memo app for some great free advertising to that brand. There are many more applications well worth mentioning that rival the Quick memo app. Most people want to install an application instead of using the hardware keys if they don't like the layout of the keys on their device. Sometimes they can be in an awkward location for the fingers and it doesn't work well depending on the persons preferences. While that makes perfect sense, it's important to understand that some apps give added value on top of taking the screenshot and that makes them incredibly useful. Some app that can take screenshots on the LG F60 can also work as a screen recorder and record video footage of what's on your devices display. Another great aspect of some of the screenshot apps is you can edit the pictures. So, if you like to do more with your pictures than just snap them and open them, the apps might be the better option for you. Many of them are free to download and install. All you need to do is access the Google Play Store applications on your LG F60 device and log in to your Google account.
Related Posts