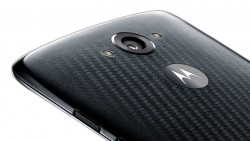 Team Win has created the first custom recovery out for the Motorola DROID Turbo, and it works perfectly with your unlocked bootloader and getting root access through it using the updated version of SuperSU. Since you need to have a custom recovery installed to root the DROID Turbo, it's the TWRP recovery on DROID Turbo that is probably the most important weapon in your arsenal after unlocking the bootloader.
Here's how to install TWRP recovery on Motorola DROID Turbo smartphone:
REQUIREMENTS
BEFORE WE BEGIN
You will need to have the Developer Options enabled by tapping the Menu > Settings > About Device > Tap the build number until it says you are now a developer (usually around 7 or 8 times).
You will need to have the USB Debugging Mode turned on by tapping the Menu > Settings > Developer Options > USB Debugging Mode. Leave the Developer Options menu and it will remember your preferences.
HOW TO INSTALL TWRP RECOVERY ON MOTOROLA DROID TURBO
Learn how to install ADB and Fastboot on your Windows computer by following our detailed guide. You do not have to install it again if you already have it on your computer. It's not something that needs updating in any way.
Download the TWRP recovery file you want to flash and install on your Droid smartphone from this link.
Download and install the Motorola Device Manager from this link.
Rename the TWRP recovery file to 'recovery.img' so you can remember it later. You can rename the file by right-clicking on the file and choosing the option that says 'rename'.
Transfer your custom recovery file over to the same folder or directory as your Fastboot.
Turn off the Motorola Droid Turbo and reboot it up in the bootloader mode by pressing the Volume Down and Power buttons together until you see the green Android logo with his belly open as if we were about to operate on him.
Connect the DROID Turbo to the computer with the USB cable you would normally use for charging the battery.
From within the Fastboot folder, hold down the Shift key and right-click where it's empty (no file) and choose to open a new command prompt window.
Type the first command: fastboot devices
– this will check that your device is connected. You'll need to troubleshoot the reason why your serial number is not showing up if you do not see your device's serial number on the display.
Type the next command: fastboot flash recovery recovery.img
– the command will flash the custom recovery on your device and let you know when it was successful in doing so.
Type the final command to finish: fastboot reboot
Now your Motorola Droid Turbo will reboot back in normal mode and you can learn how to root Motorola Droid Turbo on Android 5.1 to start installing more apps and fully customize your device.
Related Posts