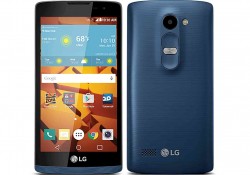 These are the steps to install CWM Recovery on the LG Tribute 2 smartphone using the trusty ROM Manager app — one of the most useful apps available to rooted Android users.
REQUIREMENTS
You must have a working root method on the LG Tribute 2. You can learn how to root the LG Tribute 2 by following our guide if you haven't done that yet already.
The Google Play Store app on your device.
BEFORE WE BEGIN
You are voiding the warranty by following this guide and installing a custom recovery on the LG Tribute 2 smartphone.
HOW TO INSTALL CWM RECOVERY ON LG TRIBUTE 2 USING THE ROM MANAGER APPLICATION
Turn on your LG Tribute 2 handset and tap on the Google Play Store application icon that is available from your app drawer.
Browse for the ROM Manager app by typing in the same name to your Google Play search bar.
Log in to your Google account so you can install apps and agree to download the ROM Manager app.
Leave the Google Play Store app and navigate to the app drawer where you normally would find recently downloaded apps.
Tap and open the ROM Manager app.
Tap on the option that says "Flash ClockworkMod Recovery".
Wait for the new custom recovery to be flashed on your tribute 2 smartphone.
Exit the ROM manager app and reboot the smartphone before doing anything else.
You are ready to start using your custom recovery any time you choose. You can open your Google Play Store app one more time and install the Quick Boot app if you have little interest learning how to enter the recovery mode using the hardware buttons. Alternatively, you get access to your new custom recovery by pressing the same hardware buttons you pressed for the stock recovery during the booting sequence.
Related Posts