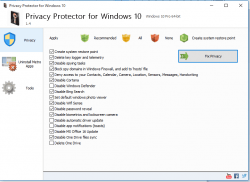 Since its official release, the number of Windows 10 users have steadily increased. Overall, it's a very solid operating system. Its new features focuses more on personalization and user experience. It has also added new security features to address growing concerns related to user security and online privacy. Nonetheless, there's no denying that in order to deliver highly personalized results, it also needs to collect a massive amount of user information. The thought of it alone can be quite alarming and questions our notion of complete user anonymity. This is exactly what Privacy Protector for Windows 10 is trying to address.
What Is It and What Does It Do
Main Functionality
SoftOrbits' Privacy Protector for Windows 10 is an all-in-one tool that is designed to help solve your Windows 10 privacy and security issues. It acts like your shield against potential security and privacy threats that is not usually exposed to common users. It helps prevent Windows 10 from collecting and sending data to Microsoft servers which includes your complete web browsing history, geolocation, Wi-Fi access points, web site log ins and passwords, list of installed apps and many more.
Pros
User-friendly interface
Includes option to completely uninstall/remove Metro apps like Bing, Groove Music, Xbox, People, OneNote, 3D Builder, Mail, Calendar, Maps, etc.
Can be configured in such a way that user is allowed to create a system restore point
Suggests "Recommended" settings for a quick fix of common privacy issues
Disables Windows Update
Offers vast features and options when it comes to user privacy and security including the ones listed below:

Delete key logger and telemetry
Disable spying tasks
Block spy domains in Windows Firewall
Deny access to Contacts, Calendar, Camera, Location, Sensors, Messages, Handwriting, etc.
Disables Cortana
Disables Windows Defender
Disables Bing Search
Disables Wi-Fi Sense
Disables Password Reveal
Disables biometrics and lockscreen camera
Disables automatic driver update
Disables app notifications
Disables MS Office 16 update
Disables One Drive files sync
Deletes One Drive

Includes support for Windows 10 Threshold 2 Update and the new DiagTrack service factoring in the TH2 update
Non-obtrusive and helps users feel more at ease when it comes to data security and privacy
Cons
Nothing worthy to mention
Discussion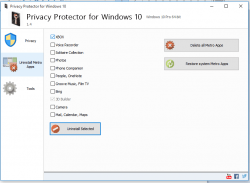 Windows 10 undoubtedly has better and more modern features compared to its predecessors. The thing is it can come out as complicated especially when it comes to enabling/disabling some of its built-in features, security settings and privacy options. For regular users, it would be much better to have an all-in-one tool that handles all the complex stuffs.
Now, here comes Privacy Protector for Windows 10. It's a very handy tool with simplified options that aims to help users fix most of their Windows 10 privacy and security concerns.
So what exactly does Privacy Protector for Windows 10 do in order for you to feel at ease that your privacy will not be breached? Well, aside from the fact that it lets you disable the built-in Windows Metro apps like One Drive, People and OneNote the easy way, it also provides various options that lets you prevent your computer from collecting and sending massive user data to Microsoft servers. All of these can be done in just a few clicks. Specifically, you just select the Windows 10 feature that raises privacy concern and Privacy Protector does the rest. As a matter of fact, you can configure the tool to select and disable or delete multiple features and options at once. It really helps save time and provides less hassle compared to turning each feature off – the "old school" style. It also features "recommended" settings where it has automatically selected the options that commonly raises privacy concerns.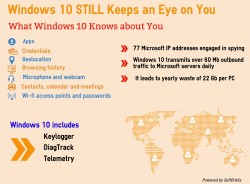 As noted above, this tool deletes or disables Telemetry, a built-in feature that automatically uploads data to help improve user experience. It also lets users disable Cortana, Microsoft's intelligent personal assistant. In addition, it also stops, blocks or remove over 37 tracking services provided by the seemingly harmless Windows services like Media Center, Disk Diagnostic and Windows Search. It also blocks more than 60 Microsoft IP addresses that are engaged in tracking of user activity tracking on a host level. Not only that, it also lets you create a system restore point without the need to download and install an additional software.
To sum it up, Privacy Protector for Windows 10 does what it is supposed to do. It allows users to easily turn off built-in features in Windows 10 that raises privacy concerns. It is a very efficient tool that helps protect one's privacy despite the ever-growing complexities of the modern world. It is suitable for users of all levels regardless if you're a Windows OS novice or advanced user.
As a paid software, you can get Privacy Protector for Windows 10 in three different license packages – Personal, Home and Business. Its price ranges from $39.99 to $99.99. Not a bad price compared to other Windows 10 Privacy Protectors in the market. It has a free trial version but with limitations such as not being able to apply any privacy fix.
Conclusion and Download Link
Privacy Protector for Windows 10's main purpose is to stop your computer from collecting and sending sensitive data to Microsoft servers. It does this by disabling several built-in features and apps that raises privacy concerns. Even so, it does not guarantee that your data will be 100% safe and private knowing that there are a lot of other ways to collect and steal private information from unsuspecting users. This particular tool merely serves as additional line of defense. As always, it helps to be extra vigilant and do not just recklessly click "Accept" or "Agree" on whatever it is that pops up on your computer screen. It is worth getting but don't expect that it'll give you full invincibility when it comes to issues related to data security and user privacy.
Price: Paid – Starts at $39.99
Version reviewed: 1.4
Supported OS: Windows 7, 8  and 10 (32-bit and 64-bit)
Download size: 4.03MB
VirusTotal malware scan results: 0/54
Is it portable? No
Privacy Protector for Windows 10 homepage
Related Posts