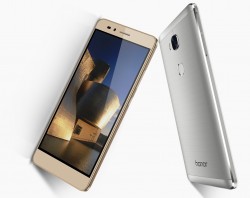 These are the instructions to unlock bootloader on Huawei Honor 5X smartphones so you can customize your device with root access and a custom recovery.
As most of you will know, a custom recovery replaces the stock recovery, allowing you to do more from the bootable partition like uploading zip files and taking complete backups without having to use adb commands from a computer.
Correspondingly, rooting the Huawei Honor 5X is required to install some custom ROMs, as well as install many of the best apps available from the Google Play Store. Those who do not like taking NANDroid backups from the custom recovery might want to check out the Titanium Backup application for rooted users instead.
REQUIREMENTS
BEFORE WE BEGIN
By unlocking the Huawei bootloadeer, you are agreeing to void the warranty. Huawei does not cover the device once you start customizing it and tinkering with the operating system. You can still get the warranty working again by locking the bootloader when you are ready. There are no limits as to how many times you can lock and re-lock the booloader.
You must unlock the Developer Options menu by tapping on the Menu > Settings > About Device > Tap the Build Number continuously until it says you are now a developer.
Enable the USB Debugging Mode on your Honor 5X by tapping on the Menu > Settings > Developer Option > USB Debugging Mode.
Enable the OEM Unlocking option from the Developer Options menu.
HOW TO UNLOCK BOOTLOADER ON HUAWEI HONOR 5X
Make your own Huawei ID from this page.
You'll need to now log in with your account and fill out the form on this page.
– those of you stuck when you see the product identification can find it by dialing this number on your dialer: * # * # 1357946 # * # *

Connect the Huawei Honor 5X smartphone to the computer with the USB cable.

Open the ADB folder.
Right-click and hold the Shift key down at the same time and choose to open a new command window here from the menu you should see popping up on the display. Doing so will open a command window from the same directory as your ADB; thus allowing us to type some adb commands.
Type your first command to reboot the Honor 5X smartphone to bootloader mode: adb reboot bootloader
The next command will unlock your 5X's bootloader: fastboot oem unlock 8202673483
– change the numbers in our string with the real numbers you received with your code from Huawei.
Now it's time to learn how to install a custom recovery on the Huawei Honor 5X smartphone so you can officially put your unlocked bootloader to good use.
Related Posts