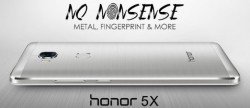 These are the guidelines to install TWRP Recovery on Huawei Honor 5X smartphones using adb commands from a computer.
While we have been teased with Cyanogen Recovery of late, it's still not available to install on as many devices as we would probably prefer. For now it's Team Win's TWRP Recovery that is the clear custom recovery of choice to install as the team keep providing the goods for many devices. The latest efforts have TWRP Recovery available for the Honor 5X smartphone from Huawei.
REQUIREMENTS
BEFORE WE BEGIN
You are voiding the Huawei warranty when you choose to customize your device with a custom recovery. You can flash the stock recovery back on the Honor 5X smartphone and the warranty will work again. You can continue swapping from stock and custom recoveries for as long as you wish and it won't make any difference to the warranty status. Having the stock recovery will always mean the warranty is working, while the custom version will always mean it is not working.
You may need to unlock your Developer Options again just like you did when you were following the unlock bootloader guide.
Check your USB Debugging Mode is also still on by tapping on the 5X's Menu > Settings > Developer Options > USB Debugging Mode.
HOW TO INSTALL TWRP RECOVERY ON HUAWEI HONOR 5X
Set up the ADB on your computer; you can find the guide for that available from the requirements section above.
Install your ADB Drivers on the computer.
Download the TWRP Recovery file from this link and transfer it over to the same folder as your ADB so you have them both in the same directory.
Connect the Huawei Honor 5X smartphone to the computer using the USB cable.
From within your ADB folder, hold the Shift key on the keyboard and right-click the mouse where you can see white background in the folder.
Choose to open a new command window here from the menu you can see popping up on the display.
It's time to get your Huawei Honor 5X in bootloader mode; do that by entering this command in the command line: adb reboot bootloader
Now let's flash your custom recovery on the 5X device with this command: fastboot flash recovery twrp_kiwi.img
Look on your 5X's display for the fastboot menu and choose the recovery option to enter the custom recovery you just installed.
Great; now all you have left is the guide for rooting. You can find out how to root the Huawei Honor 5X smartphone now to complete your customizing experience.
Related Posts