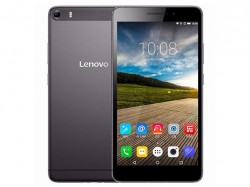 These are the instructions to root Lenovo Phab Plus PB1-770M devices running on the Android 5.0.2 Lollipop software update.
REQUIREMENTS
You must have a custom recovery installed on the Lenovo Phab Plus before you can follow this guide. We currently have it linked to the temporary TWRP Recovery since it's the only recovery available. However, feel free to change that to a different recovery in the future if you know one is available. So long as your new recovery has the ability to upload zip files, you will be fine. Having one that allows you to take NANDroid backups like the temporary TWRP Recovery or the standard TWRP Recovery is even better.
BEFORE WE BEGIN
We recommend you take a full backup using the NANDroid backup feature from within your custom recovery. Anyone who does not take a NANDroid might prefer installing the Helium app and storing data that way. Once you have rooted the Lenovo Phab Plus successfully, you can install the Titanium backup application instead.
HOW TO ROOT LENOVO PHAB PLUS PB1-770M
Download the SuperSU from here directly to the desktop of your computer and leave it zipped.
Connect the Lenovo Phab Plus to the computer with the USB cable you normally use to charge the battery on the device.
Copy the SuperSU (still zipped) to the root of the internal storage SD card.
Disconnect the Phab Plus device from the computer.
Boot the Lenovo Phab Plus into the custom recovery — in this case that's the temporary TWRP recovery you just installed if you followed our guide.
Choose the backup option ,or skip it and go straight for the 'Install' button.
Browse the SD card and upload the SuperSU package.
Wait until your file is installed and then choose the option to reboot the system now from the main recovery menu.
In conclusion, that's how to root Lenovo Phab Plus devices using the trusted SuperSU. That same SuperSU is now sitting on your device and you'll notice it along with your other applications. You need to keep it on your device in order to grant root access to the apps you want to install. It's also acting as the gatekeeper for your device and not allowing any full system access to malware. All you need to do is make sure you do not grant root access to any malware because it's you who ultimately has the say on what SuperSU allows through. It will just stop everything for you until you review the apps.
Related Posts