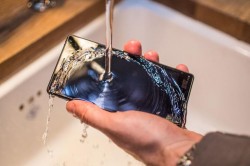 These are the instructions to root Sony Xperia Z3 on Android 6.0 Marshmallow updates. The guide uses two methods: one for a locked bootloader and one for an unlocked bootloader. Both those methods are labelled clearly, so make sure you follow the right one for your device.
REQUIREMENTS
The following guide is made for the Sony Xperia Z3 only. Sony root methods are never easy, and they are generally device-specific, meaning you will brick your device attempting to use this guide on any other device.
You must have a custom recovery installed on your Sony Xperia Z3 smartphone if you are using the unlocked bootload bootloader.
BEFORE WE BEGIN
Make sure you backup your Z3's data like call logs, text messages, pictures, video files, music files, and all other data you do not want to risk losing. Rooting doesn't usually wipe the data, but sometimes people want to restore the data after performing a hard reset.
Enable the USb Debugging Mode on the Sony Xperia Z3 smartphone by tapping on the Menu > Settings > Developer Options > USB Debugging Mode.
Anyone who needs to unlock the Developer Options menu on the SOny Xperia Z3 so it is no longer a hidde menu can do that now by tapping on the Menu > Settings > About Device > Build Number 7 times or more. It will let you know on the display when you have unlcoked the developer options by calling you a developer.
HOW TO ROOT SONY XPERIA Z3 RUNNING ON ANDROID 6.0 MARSHMALLOW SOFTWARE UPDATES
The locked bootloader method:
Flash the Android 6.0 Marshmallow on your Sony Xperia Z3 smartphone.
Flash the BETA-SuperSU-v2.68-systemroot.zip from here.
Flash the byeselinux_flashable.zip from here.
Flash the RICDefeat.zip from here.
The unlocked bootloader method:
Download the new boot image file that is able to be rooted from here.
Rename the file to "boot.img" and flash it with adb and fastboot on your computer.
Enter the custom recovery mode and then flash the Systemless SuperSU from here.
Reboot the Sony Xperia Z3 back in normal mode by tapping on the option to reboot the system from the main recovery menu.
In conclusion, that's how to root Sony Xperia Z3 on Android 6.0 Marshmallow software updates for both a locked and unlocked bootloader.
Related Posts