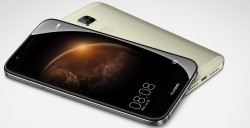 Rooting the Huawei G8 smartphone is done by installing SuperSU through your custom recovery. The SuperSU is the modern-day SuperUser. SuperUser is about as defunct as ClockworkMod Recovery — two tools made by the one developer, Koushik Dutta. The SuperSU took over from SuperUser much the same way TWRP Recovery took over from ClockworkMod Recovery. SuperSU is made by Chainfire — the same guy who makes the CF-Auto-Root files for almost all Samsung devices worth rooting — and it's that same SuperSU that will grant the rooting permissions for your app when they request to have access to your internal system.
These are the instructions to root Huawei G8 on Android 5.1 Lollipop software updates:
REQUIREMENTS
BEFORE WE BEGIN
Make sure you take a backup of all your data that you do not want to risk losing. You never know when you might want to take a hard reset when it comes to customizing a device.
Understand that by rooting the G8 smartphone, you are agreeing to void THE Huawei warranty. You can unroot, restore the stock recovery and re-lock the bootloader if you ever want the warranty working again.
HOW TO ROOT HUAWEI G8 RUNNING ANDROID 5.1 LOLLIPOP
Download the SuperSU updated zip from here.
Connect the Huawei G8 smartphone to the computer with the USB cable.
Copy the SuperSU from the computer over to the root of the internal storage SD card.
Unplug your G8 handset from the computer once you have the SuperSU still zipped and on the SD card.
Boot the Huawe G8 smartphone to recovery mode.
Tap on the option to backup the data from the main TWRP menu.
Tap the 'Install' button and browse the SD card for the SuperSU updated zip file.
Choose the 'Reboot System' option from the main recovery menu once you have installed the SuperSU zip file.
In conclusion, you all should have unlocked the bootloader, installed a custom recovery and now rooted the Huawei G8 smartphone. You can start installing your applications which require root access to run from the Google Play Store and other sources online.
Related Posts