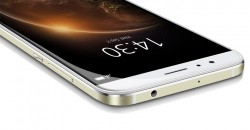 These are the instructions to install TWRP Recovery on Huawei G8 smartphones.
REQUIREMENTS
You must unlock the Huawei G8 smartphone's bootloader before you can follow this guide and install a custom recovery on the device.
The TWRP custom recovery image found in this guide is made for the Huawei G8 smartphone. Dop not install it on any other device. Find out the model number of your device by tapping on the Menu > Settings > About Device > Model Number and enter it in a Google search to make sure it matches up with the Huawei G8 smartphone.
BEFORE WE BEGIN
You will need to enable the USB Debugging Mode if it's not already on by tapping the Menu > Settings > Developer Options > USB Debugging Mode.
Any Huawei device with the Developer Options menu currently locked can unlock it by tapping on the Menu > Settings > About Device > Build Number 7 times.
You are voiding the warranty any time you choose to install a custom recovery on a Huawei device. You can always flash the stock recovery which usuaully comes bundled with your stock ROM and the warranty will start working once again.
HOW TO INSTALL TWRP RECOVERY ON HUAWEI G8
Download the TWRP custom recovery image file from here.
Install adb and fastboot on your computer and open the folder where you have adb when you're finished.
Copy the TWRP Recovery file over to the same folder as your adb so they are both sitting in the same directory.
Hold the Shift key and right-click the mouse within the folder where it shows the white background and choose to open a new command window here from the menu.
Type the first command: adb reboot bootloader
The Huawei G8 smartphone will now boot in fastboot/bootloader mode; type the next command:  fastboot flash recovery twrp.img
The custom recovery is now fully installed on your Huawei G8 smartphone; type the next command: fastboot reboot
As soon as you type the 'fastboot reboot' command, hold the recovery mode hardware button combination for your Huawei G8 smartphone so it boots into the recovery mode during the first time boot. Sometimes the stock recovery can wipe the work you just did if you do not go directloy into the custom recovery. Once you are in the TWRP mode, you can reboot back in normal mode.
Anyone looking to take the customizing to another level might wish to know how to root the Huawei G8 smartphone so you can start installing rooted applications and install custom ROMs.
Related Posts