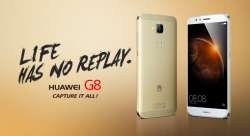 You won't be going far in the world of customizing your Huawei G8 device unless you unlock the bootloader first. The bootloader is the first thing to boot up on a device and it kicks into gear before your Android operating system. It also is responsible for deciding what it is going to boot up between your operating system and your recovery. There are some security advantages to having a locked bootloader and that's why your find your Huawei G8 — along with most other Android-based smartphones — come shipped with the bootloader locked.
Like you probably know, having a locked bootloader is preventing geeks from gaining control with full system access. Without access to the full internal system, we cannot do things like install a custom recovery or root the device. Some devices can be rooted without having the bootloader unlocked, but these kinds of roots are more 'soft' root and do little apart from enable SuperSU or KingUser.
There are also times when you need to upload your SuperSu through a custom recovery and the only way to install a custom recovery is to unlock the bootloader first. That's what we are having to do with the Huawei G8 smartphone.
REQUIREMENTS
Only follow this guide if you have the Huawei G8 smartphone. Unsure of your device? Head to the Menu > Settings > About Device > Model Number and write it down. Open the Google search web browser and enter the model number and press Enter. Google will tell you your device in the results.
BEFORE WE BEGIN
Make sure you take a backup of your data before starting the unlocking guide. You do lose all data during this guide. You can backup your data to the internal storage SD card and it can be restored later. However,. anything that is not backed up at all will be wiped forever. The data is always wiped when you unlock a bootloader.
HOW TO UNLOCK THE BOOTLOADER ON THE HUAWEI G8 SMARTPHONE
Point to hwid5.vmall[dot]com with your web browser and register a Huawei ID.
Login with your new credentials from this page: https://hwid5.vmall.com.
Accept the unlocking agreements.
Navigate to the Menu > Settings > About Device > Model Number and enter your model number.
Navigate to the Menu > Settings > About Phone > Status > Serial Number and then enter your serial number.
Navigats to the Menu > Settings > About Device > Status > IMEI and enter your IMEI number.
Dial this number: *#*#1357946#*#* and enter your Product ID.
Submit your details and wait for your unlock code.
In conclusion, that's what you need to unlock the bootloader on the Huawei G8 smartphone. You can now find out how to install a custom recovery on the Huawei G8 handset so and put all that hard work unlocking the bootloader to good use.
The custom recovery is also the gateway to gaining root rights over your internal system; we are getting that done with the SuperSU by Chainfire — an app that will remain on your device and grant rooting permissions to any upon request and with your consent.
Related Posts