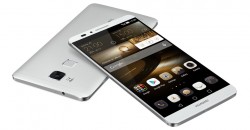 One of the most common reasons to root the Huawei mate 7 smartphone is to install the Xposed framework. The Xposed framework by itself won't do a great deal to your device, but it opens doorways to modifying a device like no other. Xposed makes customizing your device a cinch and it allows you to tweak the ROMs and features without having to install a custom recovery and custom ROM. Anyone who has not yet checked out what Xposed is all about should give that a try after they complete the guide.
These are the basic procedures to root Huawei Mate 7 and unlock the bootloader:
REQUIREMENTS
BEFORE WE BEGIN
Enable the USB Debugging Mode from the Mate 7's Settings by tapping on the Menu > Settings > Developer Options > USB Debugging Mode.
Unlock the Developer Options menu on your Mate 7 device if it's not showing up from your Settings by tapping on the Menu > Settings > About Device > Build Number 7 times. You should see the OS let you know that you are using the device as a developer and that means you can follow the step above and enter the Developer Options menu.
Understand that by rooting your Mate 7 smartphone you are choosing to void the warranty. You should still be able to unroot the device at a later date and get the warranty working again. Just make sure you have unrooted, flashed the stock recovery and locked the bootloader before attempting to send it away. All three of those things are voiding your warranty.
HOW TO ROOT HUAWEI MATE 7 RUNNING ANDROID 5.1.1 LOLLIPOP
Download the rooting package from this link directly to the computer and drag it over to the desktop from the default download location.
Connect the Huawei Mate 7 to the computer with the USB cable.
Copy the SuperSU zip file over to the internal storage SD card.
Unplug your device from the computer once you are sure it's on the SD card.
Long-press the Power button on the Huawei Mate 7 device.
Reboot the Huawei Mate 7 to recovery mode and the custom recovery you flashed earlier will boot up on your display.
Choose the 'Install' option from the main recovery menu.
Upload the SuperSU package from the internal storage SD card location.
Choose the 'Reboot System' option from the main recovery menu after you have flashed the SuperSU.
The Huawei Mate 7 smartphone will now reboot in normal mode and will be ready to install rooted apps immediately. You can find those applications usually available from the Google Play Store, the official websites devoted to the apps usually made by the developers, other file hosting sites and alternative app stores like App Brain. Moreover, you can always reboot to recovery mode and enter your custom recovery to load aftermarket firmware files or custom kernels.
Related Posts