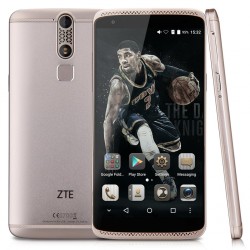 The ZTA Axon Mini is a decent smartphone with a few software bugs that need fixing for many owners. More specifically, many device owners are reporting lag problems. You have a few choices from this point: wait for a future OTA update that might bring relief, root the device and install a custom ROM.
One way to reduce the lag on the Axon Mini handset is to install the Titanium Backup application and remove the stock apps. Commonly referred to as the best app for backing up with root access, the Titanium Backup allows users to backup everything and delete stock apps acting as bloatware as well.
These are the guidelines to root ZTE Axon Mini running Android 5.1 Lollipop.
REQUIREMENTS
You should use this guide on the ZTE Axon Mini only. Make sure you have the Mini variant of the Axon before you follow this guide.
We recommend you use this guide running on Android 5.1 Lollipop and search for a new guide if your device is ever updated to a newer Android version.
BEFORE WE BEGIN
You should backup your call logs, SMS texts, pictures, music videos and any other data before you start with the guide. The Titanium Backup application is great after you have rooted the device, but until then you need to use a number of additional apps to store your data. Alternatively, sync the data using your Google account or take a backup from the smartphone itself.
You might need to enable the Developer Options on the Axon Mini by tapping on the Menu > Settings > Developer Options > USB Debugging Mode.
HOW TO ROOT ZTE AXON MINI RUNNING ANDROID 5.1
Open the forum webpage from this link.
Translate the page so you can read it in your language.
Check that it worked by installing the root checker application from the Google Play Store.
That's all you need to root the ZTE Axon Mini smartphone. Now you can start using apps like the Titanium Backup app and banish the bloatware on your device. Further, you might be interested in checking out other apps like Greenify or BusyBox.
Anyone with a custom recovery installed on the ZTE Axon Mini smartphone can go on to install a custom ROM. You can find threads over at XDA Developers giving all of the available ROMs a mention. ROMs usually become available for more when a device ages, since the main reason for installing a new ROM is to update the firmware.
Related Posts