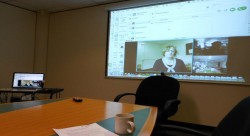 Ever thought about making free group video calls from your Android or iPhone? Having friends and family in one place for regular catch ups is something everyone loves to do. Now with the help of the latest feature in Skype, we can make free group video calls from our mobile phones. This feature helps people to keep regular contact with many people in a group.
What is Skype?
Skype is a program that uses Internet services to make free calls to an individual. The latest feature of Skype allows an individual to make free group video calls to people who are using Skype. Skype also provides users with options such as file transfers, texting, video chat and video conferencing. Skype can be installed on a desktop, mobile phone and tablet. Now Skype is a part of Microsoft.
Benefits of Using Skype
Besides using Skype to make free group video calls, Skype provides some more benefits to the user. They are:
Low Cost: Low cost is one of the most important benefits of Skype. We can use the free version of Skype to make calls, chats, and for file transfers.
Flexible: Skype offers free mobile and tablet apps. Using this app, you can call your contacts and communicate with them easily.
High clarity: Voice clarity is very good compared to other calling apps.
Build relationships: Skype provides the user the option to make both video and voice calls. By doing so, it helps to strengthen relationships between people. With free group video calls you can visit with everyone at once.
Instant messaging option: Skype offers an instant messaging option too. It includes a group chat option that can be useful for conducting meetings or reunions.
How to Make Free Group Video Calls Using Skype on Android or iPhone
Before making your free group video calls from your android or iPhone, you need to keep a few things in mind.
Skype's latest version should be installed on the mobile phone.
You should have a high-speed Internet connection on your mobile phone.
A webcam, microphone and speakers should be present for your phone.
A user can share a group call with 25 people (including you). Before making a free group video call, you need to make sure that the people who are invited to the group call have the latest version of Skype installed on their device.
Steps Involved in Making Free Group Video Calls
Log into your Skype account on your Android or iPhone.
Now + New icon that is displayed under your profile picture.
Now search for contacts that you need to add in this group. After selecting a person just click on Add button to add the contacts.
After adding all the contacts to the group, click on Call option to call.
Final Word
Skype has proven over the years that it is the best app available in the market that can be used to make calls.
If you are an individual user or small organization looking to make free group video calls, then do not hesitate, just install the latest version of Skype and start visiting with the people important to you.
Related Posts