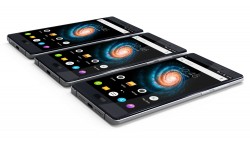 Bluboo Xtouch owners can be happy that TWRP Recovery is available to install on the smartphone for a custom recovery. Nearly everyone wants TWRP out of all custom recoveries because it comes with a built-in File Manager which can install files both from internal and external SD cards. In addition to the File Manager, the TWRP comes with the functionality to reboot to the Android operating system, back to the recovery mode and bootloader mode or download mode. Other recoveries need you to press the hardware button combination after a reboot, and that's far more time consuming than the option TWRP gives from the menu. Other users enjoy TWRP over ClockworkMod Recovery because it automatically will clear your cache after flashing finishes. When using a different recovery, you need to clear those caches often before flashing, and you need to get it done manually.
These are the instructions to install TWRP Recovery on Bluboo Xtouch smartphones:
REQUIREMENTS
The TWRP custom recovery on this guide is made for the Bluboo Xtouch only. Do not install the same file on any other device or you risk bricking that device.
You need a computer to download the files in this guide. You are running the Flash Tool and installing your new recovery on the computer with the Bluboo connected.
BEFORE WE BEGIN
Unlock the Developer Options menu on the Bluboo if you must by tapping on the Menu > Settings > About Device > Build Number 7 times.
Turn on the USB Debugging Mode on the Bluboo by tapping on the Menu > Settings > Developer Options > USB Debugging Mode.
You are losing your Bluboo warranty when you choose to replace the stock recovery with a custom recovery. You can always go back to the stock version and restore the warranty any time you want.
HOW TO INSTALL TWRP RECOVERY ON BLUBOO XTOUCH
Download the TWRP Recovery for the Bluboo Xtouch from here.
Download the Flash Tool drivers from here.
Download the Smart Phone Flash Tool from here.
Extract the Flash Tool and the Flash Tool drivers and run them both.
Upload the scatter file folder for your recovery.
Click the Download button.
Connect the terminal to the PC as 'Off'.
Wait for the installation to complete; it should only take a few minutes.
Unplug the Bluboo smartphone from the computer and choose the option to reboot the device from your Power Options menu.
In conclusion, that's how to install TWRP Recovery on the Bluboo Xtouch smartphone. You should try rebooting to the recovery mode now and checking that the guide worked before you go ahead with attempting to root your device or do anything from recovery mode in future.
Once you are satisfied everything is working, you may move forward and find out how to root the Bluboo Xtouch smartphone using your new recovery.
Related Posts