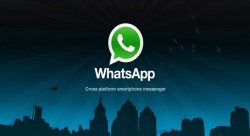 Making backups of WhatsApp chats is an integral part of WhatsApp communication. WhatsApp is a messaging app and allows cell phone users to communicate. Because a lot of communication these days takes place through WhatsApp, it is very important that we can back up our conversations.
What is WhatsApp?
WhatsApp is a multi-platform messaging application. It allows users to communicate with other cell phone users, using a mobile phone Internet connection. The cost of messaging through WhatsApp is very low when compared to SMS. WhatsApp features include group message, voice message, video message and the ability to send images. It can be installed in any operation system, like Android, iOS, Windows Phone and even Blackberry.
Advantages of WhatsApp Over Other Messaging Apps
By using WhatsApp, a user can chat with people in his contact list. It has the ability to automatically import the contacts from the user's phone and it displays how many of his friends are using WhatsApp.
WhatsApp is user friendly and less expensive compared to other messengers. It has the ability to block a particular person with whom the user does not wish to have a conversation. WhatsApp has a set of pre-defined messages that you can send instantly. WhatsApp messenger is an excellent choice for sending free messages across platforms, even internationally.
Why You Need to Backup Whatsapp Chats
Since WhatsApp is the commonly used by many to communicate with other users over their phones, it is advised to backup WhatsApp chats. Accidental deletion, loss of phone or damage to your phone can happen anytime and damage your WhatsApp chats; therefore it is always better to backup WhatsApp chats, in case you need to refer back to them at a later date.
How to Backup Whatsapp Chats by Choosing the Option Automatically
The user can set automatic the option to backup WhatsApp chats. It usually makes backups daily around 4 AM, but the user can customize the time according to his wish. Backups are automatically saved to the phone's SD card.
How to Backup WhatsApp chats by Choosing the Option Manually
Setting the backup manually is often the best way. For setting it, go to "chat settings" and look at the "backup conversations" section. Tap it. It will start the backup of the latest conversations in WhatsApp.
Backing Up WhatsApp When Changing Phones
Moving the backup of WhatsApp chat history from one phone to another works very well within same operating system. That is, if you are trying to take the backup from an iPhone to another iPhone or from Android to another Android it is easy to do so. If you are trying to move the backup from an Android phone to iPhone, it will not work correctly.
Using apps like iPhone Backup Extractor and WhatsAppXtract apps, a user can extract and read WhatsApp chats on a computer. These apps allow access to backup files, computer transfer and they also read data backups.
How to Backup WhatsApp chats to Google Drive
A user can back up his messages and media to Google Drive if he has a Google account activated in his phone. When transferring data to Google drive, it is recommended to use Wi-Fi rather than your phone connection as it consumes a lot of mobile data.
Thus, we can see that regular backup of WhatsApp chats helps to maintain the high quality of communication and save important information for future reference.
Related Posts