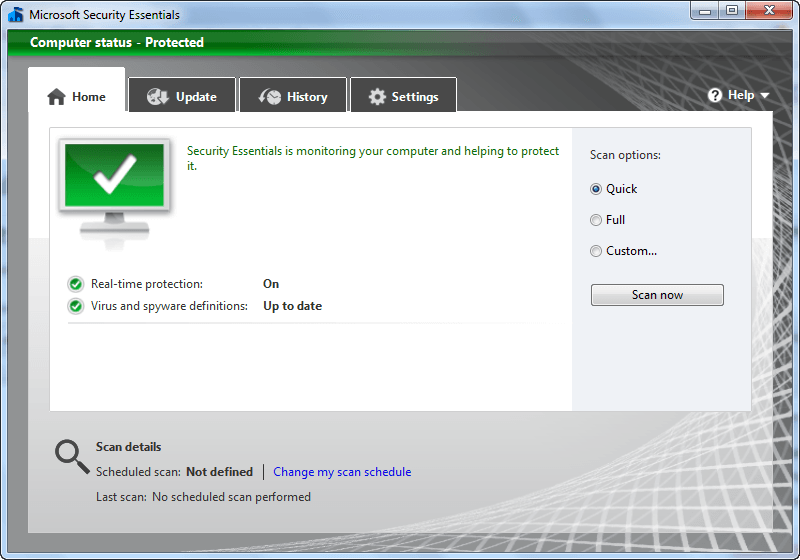 Reviewed by dotTech, and used by many, Microsoft Security Essentials is a terrific product created by Microsoft to help address the ever growing malware issue. Being fairly new, until yesterday MSE was only v1; now, Microsoft has released v2 of MSE, adding few features and making improvements.
Although Microsoft seems to have kept fairly quiet about the update – I cannot even find an official announcement nor an official changelog – I have been able to successfully update to v2 of MSE and can verify that it has indeed been released.
While there seems to be no official changelog available, the Help file of MSE v2 lists the following changes made in v2:
This version of Microsoft® Security Essentials includes the following new features and enhancements to better help protect your computer from threats:

Windows Firewall integration. Security Essentials setup enables you to turn on or off Windows Firewall.
Network Inspection System. This feature enhances real-time protection by inspecting network traffic to help proactively block exploitation of known network-based vulnerabilities.
New and improved protection engine. The updated engine offers enhanced detection and cleanup capabilities with better performance.

These features are described in more detail in the following sections.


Windows Firewall integration

Windows Firewall can help prevent attackers or malicious software from gaining access to your computer through the Internet or a network. Now when you install Security Essentials, the installation wizard verifies that Windows Firewall is turned on. If you have intentionally turned off Windows Firewall, you can avoid turning it on by clearing a check box. You can change your Windows Firewall settings at any time via the System and Security settings in Control Panel.

Network Inspection System

Attackers are increasingly carrying out network-based attacks against exposed vulnerabilities before software vendors can develop and distribute security updates. Studies of vulnerabilities show that it can take a month or longer from the time of an initial attack report before a suitable security update is developed, tested, and released. This gap in protection leaves many computers vulnerable to attacks and exploitation for a substantial period of time. Network Inspection System works with real-time protection to better protect you against network-based attacks by greatly reducing the timespan between vulnerability disclosures and update deployment from weeks to a few hours.

Award-winning protection engine

Under the hood of Security Essentials is its award-winning protection engine that is updated regularly. The engine is backed by a team of antimalware researchers from the Microsoft Malware Protection Center, providing responses to the latest malware threats 24 hours a day.
Furthermore, although the Help file does not state it, it looks like MSE now also includes a "behavior monitor" (presumably a behavior blocker):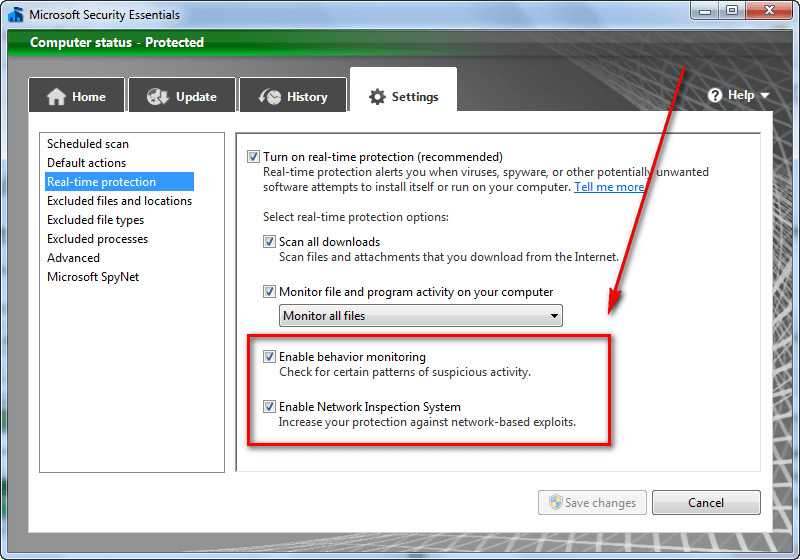 Even at v1 MSE performed extremely well as an anti-malware program; without a doubt v2 makes it that much better. It will definitely be an interesting comparison pitting MSE v2 against avast!, AVG, and Avira the next time I update the comparison article.
It seems like at this time there is no update of MSE available from MSE itself or Windows Update; if you already have MSE installed you need to download v2 manually and manually upgrade. You can download MSE v2 from the following links:
Version reviewed: v2.0.657.0

Supported OS: Windows XP/Vista/Win7

Download size: 7.5-9.5 MB, depending on if you get 32-bit or 64-bit version

Microsoft Security Essentials homepage
Thanks acr, Troll, and Samuel!
Related Posts