Software Description
The follow is a description of Ad-Aware Pro Internet Security as per the developer:
Complete Malware Protection, including Anti-Virus and Anti-Spyware
Ad-Watch Live! Expert Real-time Protection
Genocode Detection Technology
Behavior-Based Heuristics Detection
Expert Level Rootkit Removal System
The Neutralizer Malware Removal Tool
Do Not Disturb Mode
Download Guard for Internet Explorer
Toolbox
Including Process Watch, AutoStart Manager, Hosts File Editor, and ThreatWork
Network Drive Scanning
Automatic Pulse Updates & Free Technical Support
Complete Malware Protection
A power-packed combination of our pioneer anti-spyware technology together with traditional anti-virus to provide comprehensive malware protection, including protection against virus, spyware, blended malware, trojans, rootkits, hijackers, keyloggers, and much more.
Ad-Watch Live! Expert
Ad-Watch Live! Expert gives you an additional layer of security by blocking connections to blacklisted IP addresses. It also adds process protection including behavior-based heuristics scanning, registry protection, and real-time network protection.

Real-time process protection – Blocks or suspends malicious processes and infected files that try to start or connect to your system, to prevent them from further integration in your system.
Real-time registry protection – Advanced detection of attempted registry changes, a favorite target for many malware distributors. Ad-Watch alerts you when a program tries to make changes to your Registry, giving you the power to block the threat or allow access.
Real-time network protection – Monitor outgoing network traffic and block connections to blacklisted IP addresses and known malicious websites to identify and stop active threats.
Real-time file protection – Blocks malicious files from entering your system, and alerts you to malicious files already on your PC.

Behavior-Based Heuristics Detection
Extra Sensory Protection allows you to go a step beyond detecting known threats — the heuristics detection finds and blocks unknown and emerging threats and stops deceptive malware and cyber thieves before they attack your personal information.
Rootkit Removal System
Expert level rootkit technology to uncover and remove even the most complex monitoring tools, stealth mechanisms and hidden code.
The Neutralizer
Advanced removal tool combats malware that attempts to restore itself even after rebooting your system.
Download Guard for Internet Explorer
Download Guard provides an additional layer of protection that lets you download files on Internet Explorer confidently. If the file is malicious, you will simply be notified during the download process so that you can take action before any malware can infiltrate your system.
Detect, Remove and Repair
Ad-Aware intelligently cleans your system by removing all traces of the infection.
Do Not Disturb Mode
Stay protected while watching videos, playing games, or making presentations in full screen mode – without annoying interruptions or strain on system resources that other security software programs cause.
The Toolbox
Lavasoft has developed a range of useful stand-alone applications to help you optimize your computer's performance.

Process Watch – View an in-depth snapshot of all running processes and quickly stop known offenders.
ThreatWork Alliance – Quickly identify whether suspicious files are safe or malicious – right-click any file or folder to perform an immediate Ad-Aware scan or submit to ThreatWork for analysis.
Hosts File Editor – An expert tool within Ad-Aware that allows you to take control of your web navigation by adding, deleting or making changes to the Hosts File to create Web navigational shortcuts and to block unsecure and harmful websites.
AutoStart Manager – Keep your computer running smoothly by taking control over what programs start when your computer does – reducing the toll on your system that occurs when unnecessary programs are running simultaneously.

Network Drive Scanning
Scan network drives so you can detect malware on any shared disks on your network, not just on your hard disk.
External Drive Scanning
Scan your external storage device, iPod, USB's, or any other drives that you connect to your PC for an additional layer of security.
Pin-Point Scanning
Quickly identify whether a suspicious file is safe or malicious – Right click any file or folder to perform an immediate scan, or send it to ThreatWork Alliance for analysis.
TrackSweep
Control your privacy by erasing tracks left behind while surfing the web on multiple browsers, including Internet Explorer, Firefox, and Opera, with one easy click.
Full integration with Windows Security Center
Get Ad-Aware protection and status notifications through the Windows Security Center.
Free Technical Support
Direct, in-product access to support. Get immediate answers to your questions by easily logging-in to the Lavasoft Support Center.
Automatic Pulse Updates
Protect against the latest forms of malware with faster, continuous pulse updates to guard your privacy against cyber attacks throughout the license duration.
dotTech Advice
My typical source for authoritative security products detection rates (AV-Comparatives) has not tested Ad-Aware Pro, so it is hard for me to say how effective the program is. However, Ad-Aware Pro is 100 VB certified, and VirusBulletin's RAP test lists "Lavasoft Pro" (presumably Ad-Aware Pro) as having good detection rates but not great detections rates. Furthermore, for what it is worth, PCMag loves Ad-Aware Pro Internet Security, giving it 4.5/5 stars and Editors Choice reward.
On a personal level, I find that Ad-Aware used to be a good program back in the day; but with gained popularity it gained bloat and now is an overly bloated program. Regardless of how well it detects malware, I wouldn't install Ad-Aware on my computer even if I could get the Pro version for free for life. If you, however, decide to get Ad-Aware Pro Internet Security be sure to not run the live protection with other anti-malware programs. Ad-Aware used to be a "supplementary" security program that ran alongside main security programs. However, now Ad-Aware is a fully fledged main security program itself; running its live protection with other main security programs's live protection will most likely slow your computer down.
Freebie Details
1 year license of Ad-Aware Pro Internet Security is available for free through CNET for a limited time. It is a 24-hour giveaway that ends 6 AM PST Tuesday December 28, 2010. So if you want Ad-Aware Pro Internet Security, you need to get it before then. Also there is no information on the shelf-life of this license, so you may or may not be able to activate it at a later date.
To get 1 year license of Ad-Aware Pro Internet Security, follow these simple directions:
Version being given out for free: v9.0

Free updates: Yes, but for 1 year only

Supported OS: Windows 2000 and higher

Download size: 124 MB
Since this freebie is being offered through CNET, you need a CNET account (you may also use a CBS or Facebook account, if you have those). If you don't have a CNET account, register one (it is free):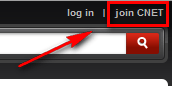 If registering a new account, you will need to confirm your e-mail address/account before it is active.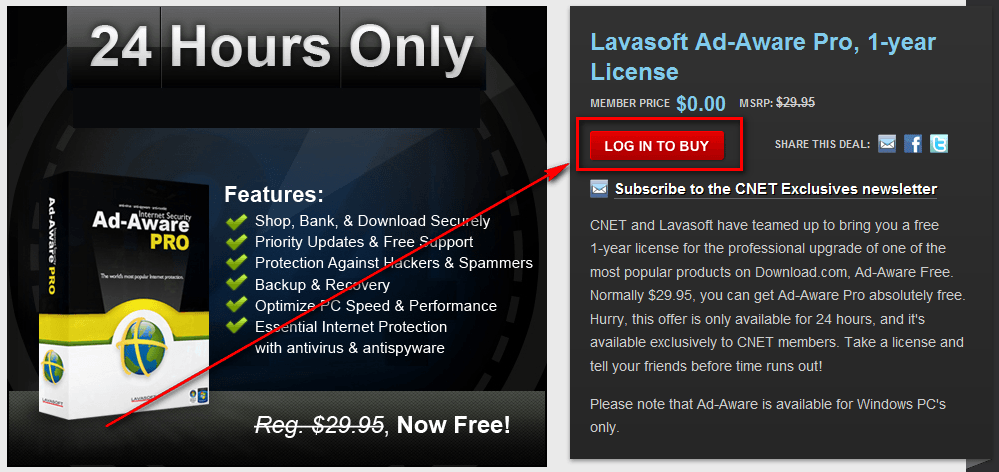 …and login:
Once you are logged in, click on BUY NOW: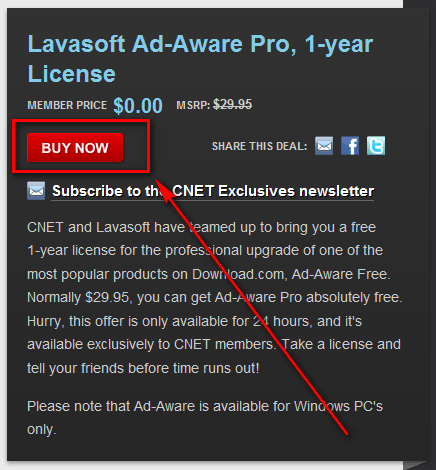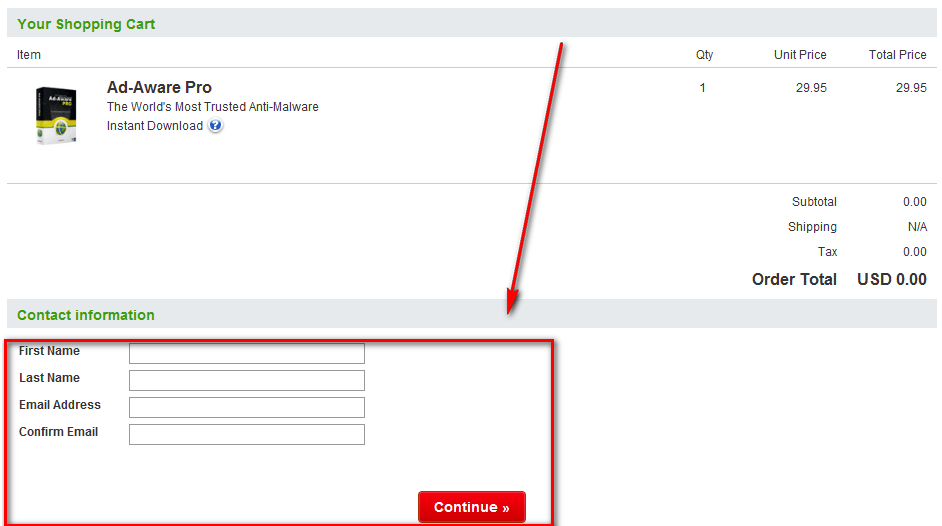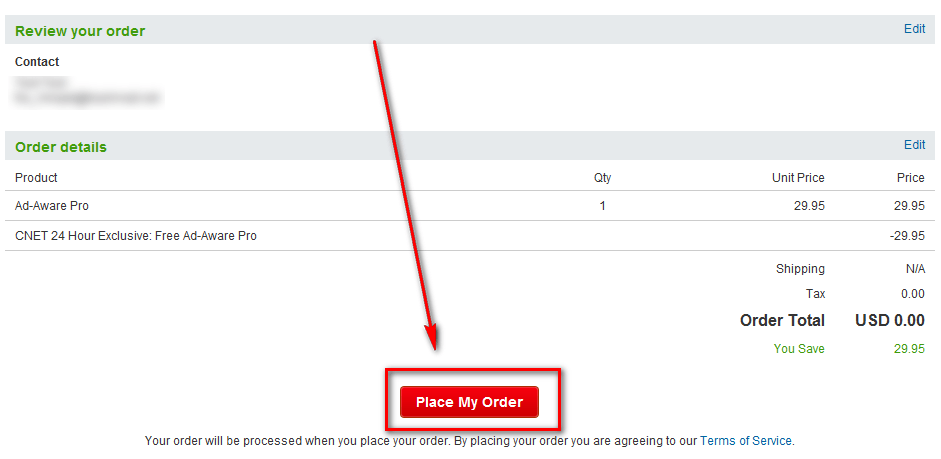 At the confirmation page, click on Get Your Product Now…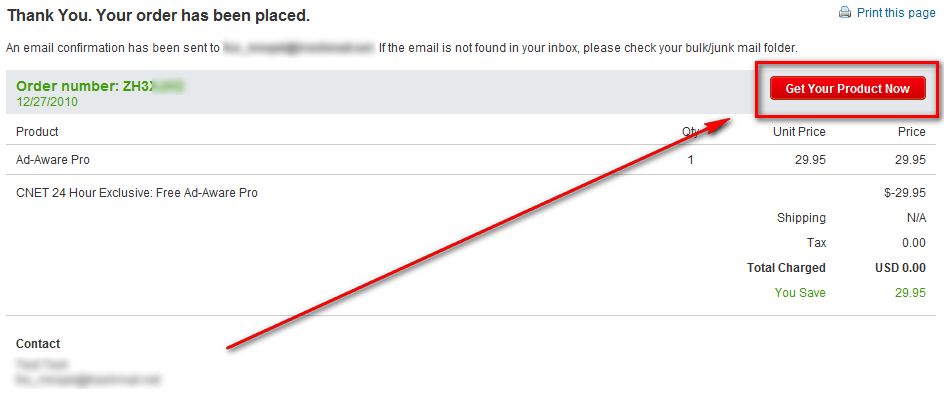 …and you will be given a download link, your 1 year license code, and instructions on how to install and register Ad-Aware Pro Internet Security: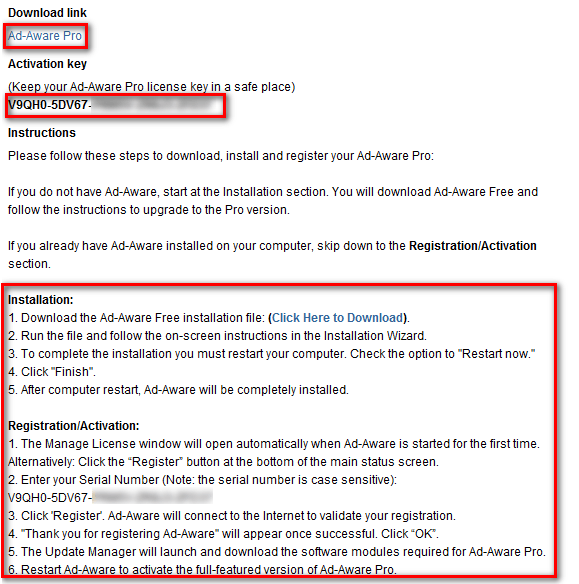 Download, install, and register Ad-Aware Pro Internet Security using the download link, activation key, and directions provided to you.
Enjoy!
If you have any trouble getting 1 year of Ad-Aware Pro Internet Security for free, post below and other dotTechies or I will try to help.
Thanks prema23!
Related Posts