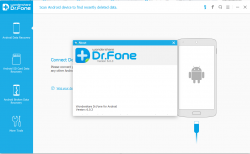 An Android device like a smartphone or tablet offers users the ability to send, receive, process and store data of all sorts. It offers versatility and a streamlined functionality that can't be achieved through traditional phones. Even so, the way you manage the data stored in your Android is totally up to you. If something goes wrong with your phone, like a system crash or a failed OS update, this could potentially lead to your data being partially or fully wiped out from your phone. If this happens and you didn't keep a backup, then you're doomed! Luckily, there are tools made to help you recover your deleted data like the Wondershare Dr.Fone for Android. It's time to find out if this data recovery tool is something that you can truly depend on.
What Is It and What Does It Do
Main Functionality
Wondershare Dr.Fone is an Android data recovery tool designed to recover data from an Android tablet or smartphone. It can be used to recover photos, videos, contacts, messages, call logs, documents, chats and many more. It is also compatible with over 6,000 Android devices including the ones made by popular companies like LG, Sony, HTC, ZTE, HUAWEI and Samsung. Not only that, this tool works for both rooted and unrooted Android devices. This tool can be used to recover data from your Android device regardless if you're on Windows, Mac or Android.
Pros
Very efficient
Flaunts a modern user interface that's easy to setup and easy to use
Fast and responsive
Cross-platform functionality
Can also be used to recover data from Micro SD
Supports a wide variety of Android smartphones and tablets – over 6,000 models including devices from Samsung, ZTE, HUAWEI, Motorola, Sony, LG, Lenovo, Oppo, Prestigio, TCT, Xiaomi, XOLO, Acer and many more.
Recovers all sorts of data including photos, videos, documents, contacts, chat logs, call logs, messages, call history, Whatsapp attachments, audio, etc.
Very useful for foreseen and unforeseen issues such as system crash, unrecoverable forgotten password, SD card issue, rooting errors, ROM flashing, accidental manual file deletions, lost data due to factory reset, improper OS update, failed backup synchronizations, etc.
Supports both rooted and unrooted Android devices – do take note that if used on unrooted devices, Dr.Fone will perform a one-click root on your phone. This is required in order to perform the data recovery process. It will then restore your phone to its unrooted state once the process is finished.
Cons
None that I can think of but it does take a while for the said tool to perform the scanning and data recovery process. You need to be patient.
Discussion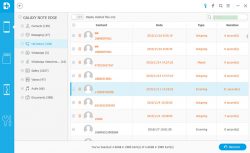 Wondershare Dr.Fone is a pretty straightforward Android data recovery tool. You download the software, install it and then run. It has a free to try version which is obviously limited in features and a full premium version that you can purchase based on the functionality that you want. It may be recommended to get the Android Full Suite but if you just care about recovering deleted data, the personal license for "Android Data Recovery" will suffice.
The initial stage of the recovery process basically involves connecting your phone to your Windows PC or Mac using a USB cable. There's no option for connecting via other means such as via WiFi network. Nonetheless, a connection via USB is more stable. Just don't forget the basics such as enabling the "USB debugging" option on your phone.
Once connected, the software will automatically detect your device upon the premise that its model or version is supported. Fear not though, Dr.Fone supports more than 6,000 Android smartphone and tablets. So far, it's the first Android data recovery tool that successfully detected my old-school Samsung Galaxy Y (still running on Gingerbread 2.3.6) without a glitch. It may not work though if your phone is already short on internal memory so better consider deleting some unused apps first. If you want to see the full list of supported devices, just go here.
Once successfully detected, you'll be prompted to choose which type of data you want to recover. With this tool, you can recover all sorts of data including music files, videos, photos, documents, call logs, messages, etc. It can even recover your deleted or lost WhatsApp attachments. You can also use the "Select All" feature to perform a full data recovery.
The process which starts from detecting your device to analyzing data to the actual recovery may take a while. It also varies upon the type of device that you have and the types of data you want to recover. Just keep in mind that if you're going to use Dr.Fone on your unrooted device, it will prompt you to allow it to perform a one-click root on your phone or tablet. Once the process is finished, it will restore your device to its unrooted state so you won't lose your warranty. With this, you need to make sure that you're following the standard rooting requirements such making sure that your phone's battery level isn't below 20 percent.
Once the recovery process is finished, you'll be able to a view the list of files recovered. You may then choose which files or data you want to keep. Simply click the "Recover" button to confirm. Your recovered files will be saved to your preferred target folder.
Wondershare Dr.Fone is indeed a handy and efficient Android data recovery tool. One does not need to have an advanced knowledge in Android systems or data recovery to make this work. It is definitely made with the common users in mind and the tool itself has proven it by doing what it's supposed to do – to recover files.
There may be instances where it could fail to detect your device (due to various reasons) but when it comes to data recovery, it certainly works.
Conclusion and Download Link
Getting Wondershare Dr.Fone is definitely worth it especially if your device is supported. It does the job and requires little effort on your end. It also saves you from the hassle of looking for complicated ways to recover your deleted data. What's great about it is that supports a wide range of devices and not just popular and newer smartphone models. It's not really necessary for you to get the Full Suite though. You just get it if you want to avail its additional features like broken data recovery and lock screen removal.
Price: Free to Try | Paid – starts at $49.95
Version reviewed: 6.0.3
Supported OS: Windows 10/8.1/8/7/Vista/XP; Mac OS X 10.11(El Capitan), 10.10(Yosemite), 10.9(Mavericks), 10.8, 10.7, or 10.6
Download size: 1.13MB
VirusTotal malware scan results: 0/56
Is it portable? No
Wondershare Dr.Fone for Android homepage
Related Posts