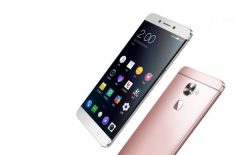 The LeEco Le Max 2 smartphone in the Asia area is running on the Android 6.0. Marshmallow software update, which is very up to date for an Asian manufacturer and phone carrier network which usually are behind in what they are doing out west. The good news doesn't stop there either. Everyone who has the Le Max 2 smartphone can now get root access to the internal system so you can start installing the root apps from the Google Play Store as well as think about swapping the stock ROM for a custom ROM.
Here is everything you need to root LeEco Le Max 2 X820 running Android 6.0 Marshmallow updates:
REQUIREMENTS
BEFORE YOU BEGIN
You should always backup the data on your LeEco smartphones before you root the handset just in case you want to try talking a factory reset down the track. A factory reset, otherwise known as a hard reset, will wipe the data clean, so you are left without everything unless you have backed up first. You can always restore that backup later if you wish. Since you do not have a rooted Android just yet, you cannot make use of favorite apps from the Google Play Store such as the Titanium Backup app which is the best app out there for backing up. However, what you can do is boot the LeEco smartphone into the recovery partition so the custom recovery boots up and then choose the Backup option to take your NANDroid Backups.
HOW TO ROOT LEECO LE MAX 2 RUNNING ON ANDROID 6.0 MARSHMALLOW
Download the SuperSU by Chainfire (version 2.67) from here on the computer and have it waiting on the desktop.
Connect the LeEco Le Max 2 smartphone to the computer with the USB cable.
Copy the SuperSU package from the desktop over to the soot of the internal storage SD card.
Unplug your LeEco smartphone from the computer and the USB cable.
Turn off the LeEco handset and then hold down the hardware key combination that boots the smartphone up into the recovery mode.
Select the installation button from the main recovery menu and browse the SD card for the SuperSU 2.67 zip file.
Confirm you wish to install that version of SuperSU on your handset by swiping at the bottom of the display.
Choose the option that says it will reboot the system now once you are done.
In conclusion, that is how to root LeEco Le Max 2 smartphones when you have them running on the Android 6.0 Marshmallow software updates by flashing an updated version of the SuperSU (2.67) on the handset by using a custom recovery. Now that you have both a custom recovery and root access you can do all the things you have heard about that you couldn't do before including installing any of the root apps like the Titanium Backup app as well as any custom ROMs that might have caught your interest.
Related Posts