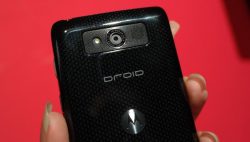 Rooting the Motorola DROID Mini smartphone is now an option when you have it running on the Android 4.4.4 KitKat software updates by using the handiest one-click rooting tool the world has seen to date, namely KingRoot. The KingRoot app is an ever evolving thing where once you install it and click a button, it will ping back to the Chinese servers where a group of super cool geeks is sitting behind over a thousand monitors and observing the data you sent out and they'll immediately ping you back with the working rooting method that is going to unchain your operating system. Okay, so they are not quite that amazing, but they are near that awesome.
Here is everything you need to root Motorola DROID Mini smartphones running the Android 4.4.4 KitKat versions of Android operating system by using a one-click rooting app.
REQUIREMENTS
The following guide is made for the Motorola DROID Mini smartphone when running on the Android 4.4.4 KitKat software version. We do not guarantee that this same method will work for any future updates.
You must have your DROID Mini smartphone with a working web browser application available. Not much else is required.
BEFORE WE BEGIN
Make sure you have the Unknown Sources option available on your DROID Mini by tapping on the Menu > Settings > Security > Unknown Sources so you can install APK files from outside the Google Play Store.
Note that by rooting the Motorola DROID Mini smartphone you are almost always going to be voiding the warranty. You can usually unroot a device to get that same warranty working again.
Also, note that KingRoot does not unlock the bootloader nor does it require an unlocked bootloader to run. Nonetheless, you will still need to unlock the bootloader before you can install a custom recovery whenever you are talking about a device that usually required having an unlocked bootloader to get a custom recovery installed.
HOW TO ROOT MOTOROLA DROID MINI RUNNING ON THE ANDROID 4.4.4 KITKAT SOFTWARE UPDATES
Download the KingRoot APK directly to your DROID Mini smartphone by opening the web browser app and pointing to this guide and tapping on the link.
Tap on the KingRoot app icon from the app drawer once you have installed the APK file on your smartphone.
From the main page of the app, tap on the button that suggests it is going to root your smartphone.
Wait as the progress bar starts rolling around the display and eventually reaches 100 %.
Wait until you get a success message on the screen and then reboot your smartphone.
In conclusion, that is how to root Motorola DROID Mini smartphones when they are running on the Android 4.4.4 KitKat software updates by using the KingRoot one-click rooting application directly from your web browser. There is a bundle of versions of the KingRoot available out there as APK file, but the latest version from the XDA-Developers website should do the trick and root your smartphone. Once done, you can hit up the Google Play Store and install one of the many root checker apps to verify that your smartphone is in fact rooted as intended.
Related Posts