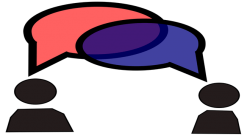 Communication over iPhone using animated GIFs is all the rage, as people love to share animated GIFs with an iPhone message app rather than ordinary GIFs. No one is interested in sharing a regular GIF that has no life. A regular GIF is boring when compared to animated GIFs that are ruling the Internet. Most people prefer using animated GIFs when sharing through iPhone message apps.
Why Animated Gifs are More Popular?
The main reason why animated GIFs are hugely popular with audiences when compared to regular GIFs is animated GIFs are more colorful, can capture attention and create an impression. They are an excellent type of digital expression for your thoughts and complex feelings in a way much better than lengthy messages can express. When you share animated GIFs with people, there is more life in animated GIFs. Animated GIFs can be considered a hybrid version of a GIF and a video. Animated GIFs are easily available on the Internet and using photo editing tools one can create their own animated GIFs, too. To share animated GIFs with an iPhone message app is very easy these days.
Advantages of Animated GIFs
With the increase in social media users, more and more people prefer to share animated GIFs with their family and friends. There are several advantages that animated GIFs have over ordinary GIFs. An animated GIF is a more effective type of visual communication when compared to an emoji or an ordinary photo, as an animated GIF gives you more scope for expression. Your animated GIF is a package that includes the message, the tone and the feeling you want to express. It is a small file, just a few seconds long, so it takes less time to download when compared to Flash. Another great advantage of animated GIF over a normal image is that, with the help of animated GIFs one can express more emotions.
Steps to Share Animated Gifs with iPhone Messages App
Before you decide to share animated GIFs with your friends through an iPhone messages app, you need to make sure the receiver's iPhone is configured to receive the animated GIFs through the iOS device.
Once that is done, go to the Album section in your iPhone. Most of the animated GIFs that you have downloaded or received through emails will be stored in the Albums.
Now, select the animated GIFs that you would like to share with your friends through the message app.
Select the "Share" button that is displayed on the left corner of the screen.
Now tap on the iPhone message app from the sharing options.
Now enter the recipient name and press the "Send" button. Your animated GIF is now sent to the recipient and he will be able to enjoy the animated GIF without any issues.
If the recipient does not have an iOS device, then your animated GIF message won't be delivered to him. You will receive a pop-up message stating that the recipient has not received the shared animated GIF.
Conclusion
Until recently, you could only share animated GIFs with your friends through email and Facebook. The popularity of animated GIFs has increased and it has now become one of the most popular ways of expression through social networking sites. IPhone now includes the ability to share animated GIFs through iPhone messaging apps. By going through the steps given above, anybody can share animated GIFs with your friends and family members.
Related Posts