In today's age, the flow of data have evolved so much that the old-school ways no longer work. And so, the process of handling and protecting data have also evolved. Nowadays, regularly maintaining a backup is a must. It is also important to have a reliable and cost-effective data recovery tool. With a data recovery tool, you can quickly recover important data during a system crash or hardware failure. It also helps in recovering files that were deleted by mistake. As for Wondershare Data Recovery, it is said to offer 100% safe and easy data recovery. Let's find out if that's really true.
What Is It and What Does It Do
Main Functionality
Wondershare Data Recovery is a data recovery solution that supports both Windows and Mac. Its prime purpose is for recovering all sorts of file formats including documents, photos, emails, and videos that's stored in computers, hard drives, flash drives, memory cards, smartphones, cameras and camcorders. It is ideal for recovering data that was lost due to formatting, improper operation, virus or malware attacks, unexpected system crash, complete system reinstall, partition issues and of course, accidental deletion.
Pros
Modern and user-friendly interface
Stable and responsive
Can perform quick scans, in-depth scans (deep scan)
Offers two modes for data recovery – there's the Wizard and the Standard Mode
In Standard Mode, users can choose whether to perform lost file recovery, partition recovery or raw file recovery. There is also the option for resume recovery.
Supports recovery of files in various formats (over 550 file formats) which includes photos, videos, emails, documents, mp3 and audio, XML files, log files, ZIP/RAR files, etc.
Allows preview for recoverable file formats
Recovers data from almost all types of storage media like PCs, laptops, hard drives, memory cards, USB Drives, digital cameras, mobile phones, pen drives, floppy disks music players, etc.
Supports the following file systems – FAT16, FAT32, exFAT and NTFS
Can recover deleted data regardless of the time period provided that the original lost data has not yet been overwritten by new data
Supports both Windows and Mac platforms
Cons
Nothing worthy of mention
Discussion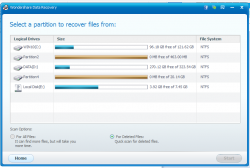 With Wondershare Data Recovery, it is important to note that the unregistered version limits users to only recover up to 100MB of data. The registered version, on the other hand, has no limitations. Its price starts at $29.95 for a 1-PC 1-year license. It also offers business licenses for small business owners and larger companies.
The way how the said data recovery tool works is also easy and straightforward. After downloading, installing and registering the software, you get to choose between its two recovery modes. There's the Wizard which aims for fast and simple file recovery and there's also the Standard Mode which aims for a more in-depth recovery.
Let's talk about the Wizard first. It's the default mode and features a no-frills way of data recovery. It will ask you two basic questions – what type of file do you want to recover and which path or location do you want to recover it from. This mode is very basic but is also a hit and miss approach. Sometimes you get lucky and get the file you want to recovery but there are also times, when you don't. This mode is mostly ideal for files or data that you've accidentally deleted via "Shift + Del" or "Delete".
For the Standard Mode, this is where you get the most of what Wondershare Data Recovery has to offer. In Standard Mode, there are 4 options – Lost File Recovery, Partition Recovery, Raw File Recovery and Resume Recovery. For Lost File Recovery, you choose this option if you want to recover files from a specific source or folder. This option will also retain the file's original name and path. Like the Wizard Mode, there's a chance that this option would miss and you don't get to recover the data you want.
For Partition Recovery, this is your choice if you want to find lost, deleted or resized partitions. This option is best applicable for recovering files from hard drives or physical drives.
For Raw File Recovery, this is the option that lets you perform full in-depth scans from any supported or recognizable drive and from any supported file system. It's usually the option that brings good results and you can truly recover the lost files that were almost impossible to recover. It's just that if you choose this option, the original file names and paths will not be shown. All that will be shown is the generic file name and the file size. Good thing there's a preview option for all recoverable files so it helps you save time in identifying which file is which. It also helps you determine which file is unrecoverable and corrupt.
As for the Resume Recovery option, it basically gives you the option to pick up from where you left off. Let's say you're in the middle of a file recovery process and something came up. You can pause the recovery and resume later. Just don't forget to save the scanned files beforehand. Anyhow, the said data recovery tool will give you warnings and hints so you won't get lost throughout the recovery process.
Note that in all recovery options, you have the choice whether to perform a quick scan or a deep scan. Quick scans are okay but it is usually the deep scan option that does the job. The downside is that it does take a while but it's the same with other recovery tools as well. What's great about Wondershare Data Recovery is that it's pretty stable and consistent. It also supports a wide range of file formats including photos, videos, audio files, documents, emails, etc.
Conclusion and Download Link
What's great about Wondershare Data Recovery is that it's super easy to use. So even if you don't have much technical knowledge, you can still pull off the entire data recovery process by simply following instructions. It also comes with complete guides and video tutorials. Success rate is a hit and miss if you just depend on quick scans but the raw file in-depth scans are highly recommended. If you're into free options, this software can give you a sneak peak of what it can do. For a paid data recovery option, whether for personal or business use, it's definitely worth checking out.
Price: Free Trial / Paid – starts at $29.95
Version reviewed: 4.8.3 
Supported OS: Windows 10/8.1/8/7/Vista/XP; Mac OS X 10.11(El Capitan), 10.10(Yosemite), 10.9(Mavericks), 10.8, 10.7, or 10.6
Download size: 0.99MB
VirusTotal malware scan results: 0/48
Is it portable? No
Wondershare Data Recovery homepage
Related Posts