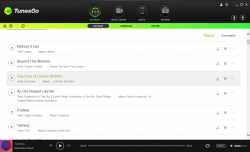 Music services like iTunes, SoundCloud and Spotify have made it easier for users to listen to music whenever and wherever they like. The thing is what if you want a streamlined way of gaining access to your music regardless of the source, platform or device? What if you want more control on how you transfer and share your online and offline music library? With Wondershare TunesGo, you can do all that and even more but first, let's find out if it can really live up to your expectations.
What Is It and What Does It Do
Main Functionality
Dubbed as the perfect iTunes companion, Wondershare TunesGo is really not just for users who are predominantly using iTunes. It's basically a multi-platform music management software that does more than just managing your offline and online music library. It can also download, record and stream music from various sources (ex. Spotify, SoundCloud, Vimeo and YouTube). Other than that, it can also manage, play, transfer and share music on various devices like your PC, Mac, iPhone, iPad, Android, etc.
Pros
Streamlined music discovery and management – users can download, record, search, discover, stream, transfer, organize, play and share music regardless of the platform or device.
Multi-platform support – supports Windows, Mac, Android, iOS.
Modern and user-friendly interface.
Offers guides and tutorials for new users.
Supports iTunes and other music and video-related services like YouTube, Spotify, SoundCloud, MTV, Vimeo, Vevo and many more.
Supports offline and online music management.
Users can transfer, organize and listen to music from their device and vice versa. Supports various mobile devices including smartphones and tablets from Samsung, ZTE, Acer, HUAWEI, Motorola, Sony, LG, Google, HTC, Apple, etc.
Offers more tools and options for iTunes and music management – Rebuild iTunes Library, Transfer iTunes to Device, Clean up Music Library, Backup/Restore iTunes, Car Playlist, Burn CD, etc.
Downloads and converts music as MP3 or MP4
Features an extensive collection of music playlists with over 300,000 songs and over 35,000 albums.
Has a built-in option that repairs all missing and inaccurate music tags and covers in just one click.
Cons
It takes a while for a new user to fully get accustomed to how Wondershare TunesGo works. Thankfully, there are guides to help you out.
Discussion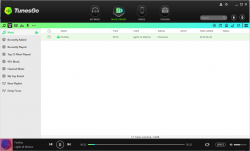 Wondershare TunesGo is a streamlined music management software designed for both Mac and Windows. It has a free trial option while its full-featured version can be purchased at a starting price of $39.95. That's for a 1-year 1-PC license. If you want a lifetime license, that would cost you $59.95.
What this software does is more than just organizing your music files. You can think of it as a streamlined tool that you can use to discover, search, download, record, transfer, play, stream and share music regardless of the source or platform. If you're using iTunes, it can be your ideal iTunes companion. If you're not using iTunes, it can be your ideal music hub as it allows you to access music from different sources like YouTube, Spotify, SoundCloud, etc.
If you're a new user, it may take a while for you to fully grasp how this software works. Nevertheless, all you need to keep in mind is that it has four main sections – Get Music, Music Library, Device and Toolbox.
For Get Music, it is where you discover, download and record new music from different sources like YouTube, Spotify, MTV, Vimeo, etc. The concept is simple. You go to "Discover" if you want to discover or explore its wide collection of music and playlists (which is apparently based on Spotify playlists). Each playlist can be downloaded to your Music Library and you can even select individual files to download. Now, if you want to download a particular song, you go to "Download". You simply choose a song that you like then download it as MP3 or MP4. For "Record", it's an option where you can record any song or even podcasts from any music software or music station.
Now moving on, the Music Library is like any standard music library. It basically shows all of your music files. It's where you play and listen to music and sort them out in different categories. You can also create custom playlists. What's great about the Wondershare TunesGo Music Library is that it instantly identifies songs and updates their tags and covers in just one click.
For "Device", it basically shows any device that you've connected to your PC/Mac via USB. This option is mostly meant for viewing, transferring and organizing the media files that you have on your device. Wondershare TunesGo supports a wide range of Android and iOS devices so compatibility won't be a problem.
Lastly, there's the "Toolbox". The Toolbox is where you can access extra stuffs that allows you to do the following:
Transfer iOS/Android music to iTunes or vice versa
Fix music tags and covers
Backup and restore iTunes Library
Transfer playlists to USB drive (ideal for creating car playlists)
Burn music to CD
All in all, Wondershare TunesGo flaunts features that any music lover will like. What's great about it is it aims to provide a place for you to access, discover and manage your music without frequently shifting apps. In addition, users are still able to make the most out of it even without iTunes. It's Music Library and built-in music player is also really nice. I like the fact that it has a quick scan feature for missing tags, missing covers, missing tracks and duplicate tracks.
Conclusion and Download Link
If you're someone who prefers to access music in just one place, Wondershare TunesGo offers a promising solution. It's a great choice if you have music from all sorts of apps and services. You can use this software to seamlessly transfer music from one device to another. Plus, it has features that aren't usually present in other music management software. It is also decently priced so you might want to check it out.
Price: Free trial, Paid – starts at $39.95
Version reviewed: 8.0.0
Supported OS: Windows XP, Vista, 7, 8 and 10. Mac OS X 10.6 and above.
Download size: 1MB
VirusTotal malware scan results: 0/56
Is it portable? No
Related Posts