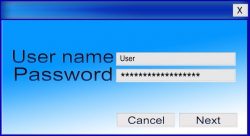 Do you have the habit of forgetting your Windows system password? Sometimes you tend to forget your Windows password and then panic wondering how you can recover your forgotten Windows password. Well, don't panic anymore. With the help of the tips discussed below, you can recover your password fairly easily when you are running Windows 7.
Problems with Forgetting your Windows Password
Forgetting your password is a common dilemma faced by many people. Many users tend to create unique and strong passwords with special characters to make it more secure. But the main problem with that is it becomes really difficult to remember such complicated passwords. It can be difficult to recover forgotten Windows password if you are using the Windows 10 and Microsoft account.
If you or some other user using the system has forgotten the user password, but you can remember the administrator password, then you can login as an administrator and reset the password of that user who has forgotten the password.
Tips for Remembering your Password
Here are some tips that can help you create strong passwords that can be remembered.
Avoid long passwords. It becomes really difficult to remember long passwords.
Avoid using the names of places and avoid repeating numbers.
After you create a good password, write it down somewhere so that you can check whenever needed. Make sure you have written it down in a manner or place in which others wouldn't understand it. You can create a password using your favorite passphrase so that you don't forget it. Creating passwords using a passphrase not only gives you a unique password but also makes it very difficult for others to crack it. Another trick is to use some personal information that nobody knows about. Using personal information in your password helps you in remembering it.
Forgetting the Windows password is not a light matter, especially if you are using the latest version of Windows. In Windows 7, you can easily recover a forgotten Windows password with the help of a Windows Installation Disk and one line of command code.
Steps to Recover Forgotten Windows Password
The first step to recover a forgotten Windows password is to boot the Windows disk. Now, select the option "Repair your computer" that is displayed in the left hand side of the screen. You must follow through till you get the option "Command Prompt." Next, click Start-> Run and type cmd. Now, enter the text below.
copy c:\Windows\system32\sethc.exe c:\
This code helps in copying the original version of "sticky keys file."
After that you should copy the CMD.exe over sticky key executable. The command text to do so is "copy c:\Windows\system32\cmd.exe c:\Windows\system32\sethc.exe."
The next step is to reboot your system. After rebooting your system, you need to get into your login window. When you reach your login window, you need to press the "Shift" key 5 times. It will then display the Command line in the Administrator mode. Now, in the command line you should enter the following text to reset the password.
net user geek MyNewPassword
That's it. You have successfully recovered your forgotten Windows password.
Conclusion
It is always a difficult situation when you forget your password. If you are using the Windows 7 operating system, you can recover forgotten Windows password by following the instructions given above.
Related Posts