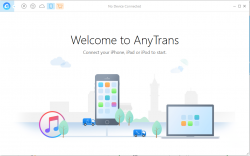 The main purpose of iPhone managers is to provide users a more efficient way to transfer, manage and back up their data. This can be done with ease because you can do everything on a simplified interface where everything is as easy as drag and drop. The thing is most iPhone managers vary when it comes to functionality and features. You'll most likely want one that offers more functionality and reliable enough to process multiple files at the same time. Speaking of which, AnyTrans 5 has just been released and it offers more functionality compared to before.
What Is It and What Does It Do
Main Functionality
With its redesigned interface, AnyTrans 5 is an iOS device manager that aims to give you full control when it comes transferring and managing data from iPhone, iPad, iPod touch, iTunes, iCloud and even on the computer. It supports both Windows and Mac platforms and now boasts its blazing flash-sync speed for seamless data transfers.
Pros
Seamless and revamped user interface – AnyTrans 5 now features a redesigned minimalist UI with interesting animations. It's also user-friendly. Saves time and less confusion.
Fast file transfers – it only takes a few seconds for files to be transferred from one device to another – so whether it's import or export, you can rely on its fast flash-sync speed
Versatile managing tools – lots of options for data transfer, management and even back up
Seamless iCloud integration
Allows preview for important personal information such as contacts, messages, call history, etc.
Offers a no-frills way of data transfer and management so everyone can use it even those who are not so well-versed with the process
Supports iPhone, iPod Touch, iPad, iTunes, iCloud and can be installed on both Mac and Windows – cross-platform approach so users can transfer and manage content with more convenience
Cons
Nothing worthy of mention
Discussion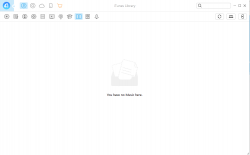 Compared to its previous version, AnyTrans 5 now features a more seamless and minimalistic user interface that is user-friendly and has interesting animations. With its newly revamped interface, a user can easily navigate his way through the options and AnyTrans do what it's intended to do such as performing a backup or doing file transfers between or across iOS devices such as iPhone, iPad, iPod Touch, etc.
Not only that, this iOS device manager now also boasts its blazing flash-sync speed so data transfer and backup are not interrupted. It only takes a few seconds for the entire process to complete. Simply put, it makes life easier and less hassle. A user can conveniently access his or her data on the iPhone on another device or computer with the help of this simple and straightforward software.
In addition, AnyTrans 5 lets users gain access to iCloud to easily store data there in one place to avoid confusion. It also allows preview of personal information so a user do not get to wonder whether the file has been transferred correctly or not. You can preview contacts, messages, call history, etc.
When installing AnyTrans 5, it does require iTunes to be installed first. Otherwise, some of its core features wouldn't work and there will be limits to its functionality.
As for data backup, it is easy to create, find and restore backup versions at any time you want. You can also customize the output format of each backup item and save them to a custom folder or location.
All in all, the newly updated AnyTrans does showcase a promising set of features. It just offers what's essential for iOS device users and does not really go overboard. It is a reliable iOS device manager that will definitely save you from all those work and the hassle.
The latest iteration of AnyTrans is currently being offered in both personal and family license. Both licenses are good for lifetime use with free lifetime upgrades.
Conclusion and Download Link
What AnyTrans 5 offers is convenience for any iOS device user who wish to seamlessly transfer, back up or manage their data. It supports a wide range of devices so compatibility won't be an issue. Apart from its fast data transfers, it is also very stable and flaunts a modern minimalist UI that's easy to navigate. This is what makes the newest iteration of AnyTrans worth a try. It is a must have iPhone and iPad essential.
Price: Free Trial/Paid Personal or Family License 
Version reviewed: 5.0.0 
Supported OS: Windows 10, 8, 7, Vista, XP, macOS Sierra Public Beta, OS X 10.11, 10.10, 10.9, 10.8
Download size: 851KB 
VirusTotal malware scan results: 1/57
Is it portable? No
Related Posts