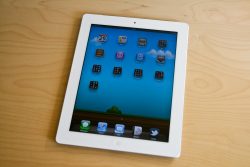 Working with multiple monitors is an awesome experience. It helps to increase your productivity and enables you to see everything. But, buying a monitor is expensive. If you have an iPad, you can use your iPad as a second monitor for your PC or Mac.
Why iPad?
Buying an extra monitor can cost a lot of money. If you are not in a position to buy an extra monitor for your PC but still love to enjoy the experience of a dual monitor, then the best available option is to use your iPad as a another monitor. An iPad cannot give you the similar experience you get when using a regular monitor, but if you have an iPad, you can easily set it up as a second monitor for your PC. You can get a pouch to use as a stand and the software to use your iPad as a second monitor with less than $20. That means you can save some a lot of money if you already have the iPad. You don't need to be an expert to set it up. You just need to follow the steps given below.
Steps to Set your iPad as a Second Monitor
The first step is to download the software that is necessary to make your iPad act as a second monitor. Duet Display is the best software currently available in the market. You need to install Duet Display in your iPad and also the server version on your PC for setting up your iPad as a second monitor. You also need to have a USB cable for connecting both.
The next step is to connect your iPad. For that, you need to have Duet Display running on your PC. Then launch Duet Display on your iPad.
Now, plug your iPad to your PC using the USB cable. Your iPad will now work as an extension of your PC.
If you wish to adjust the display settings, by default, it is assumed by Duet Display that your iPad will be on the right of your computer. If you wish to move it to the left of your computer, then you can change it.  Select the option "Display" by right clicking on the desktop.
Two options will be displayed as squares — one is your monitor and the other one is for your iPad. Move your iPad option to the left of the PC option so that you can easily work on both the devices.
By going to the Duet Display option, you can alter or set other necessary display settings. Open the Duet Display from the system tray in the Windows machine and then set the frame rate at 60FPS and the performance at the highest power. You can also change the resolution to see which one works best for you. You need to keep in mind to choose the best available option depending upon your monitor and your ease to use option.
Conclusion
The experience of working on a dual monitor is something every software engineer likes. It makes a drastic improvement in your working style and you can enjoy more productivity using two monitors. With the help of an iPad, you can easily use it as a second monitor for your PC and enjoy working on a dual monitor.
Related Posts