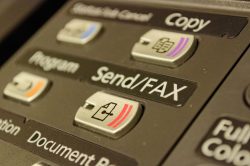 Do you send a lot of faxes? If you're a busy business person and not always in an office, finding a place to fax documents can be a huge hassle.  There are many organizations that accept only fax messages and this can be a problem. Although you have your Smartphone with you constantly, you cannot just use your smartphone as a fax machine or dial-up network to send a fax; you need to rely on third party apps so that you can fax a document from your smartphone.
Apps to Fax a Document from Your Smartphone
With technology marching along, there are now many apps that you can use to fax a document from your smartphone. However, the problem is that there are no free apps. You have to pay for them, but depending on the number of faxes you send, it can be well worth the cost.
Another point you need to keep in mind before choosing an app for faxing documents is that you are going to send some personal or confidential matter via fax sometimes; therefore security should be a prime concern. You need to make sure that the app you are going to use to fax a document from your smartphone has good security features. An app like RingCentral Fax, and several others provides very good security features.
RingCentral Fax: RingCentral Fax is an app that is partially owned by CISCO and AT&T. The main advantage of RingCentral Fax app is that, it has excellent security features that protect the content of your fax. It also supports multiple users via separate fax lines. The RingCentral Fax offers excellent mobile friendly apps that allow you to send fax via email also. The app provides integration capability with Google Drive, Microsoft Outlook, and Drop Box. The security features help organizations and individuals so that they can send secure information without worrying. They are a number of plans to choose from. If you fax a document from your smartphone only occasionally, you can choose the minimum plan.
eFax: eFax, the company that invented digital faxing, offers excellent apps that can be used to fax a document from Your smartphone. The mobile app offered by the company lets you send and receive faxes through your smartphone.
MyFax: MyFax is another excellent app that helps you to fax a document from your smartphone. The company offers 10 free faxes. You need to pay only after you are sent 10 pages from your smartphone. After the trial period is over, you can easily choose the best plan suitable for your requirements.
If you're using Windows smartphone or Blackberry, you can use any of the apps discussed above to fax a document from your smartphone. You do need to use their websites to send fax by email. The ability to send fax by email is a very useful feature that all these apps provide. You don't have to install any other software for using the feature.
Conclusion
With the evolution of technology in smartphones, there are many features that make the smartphone a must-have gadget. The ability to fax a document from your smartphone is a feature that is really helpful for users all around the world. With the help of the apps mentioned here, you can easily fax a document from your smartphone with just a few clicks.
Related Posts