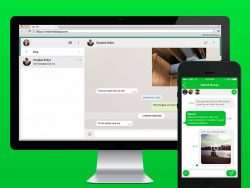 To set up WhatsApp Web on a PC or MAC is not that complicated. In fact you can just install the web version of WhatsApp, WhatsApp Web due to its compatibility with all the top browsers like Mozilla Firefox, Google Chrome, and Opera. You can easily set up WhatsApp Web on your PC by following the steps given below.
What is WhatsApp Web?
WhatsApp is one of the most popular instant messaging apps for smartphones and is used all over the world today. It has now launched a web version that you can install in your PC. By launching the web version of WhatsApp, you can now access WhatsApp through your Smartphone, PC and tablet. To set up WhatsApp Web is an easy process of downloading the software to your PC or MAC and then syncing it with your smartphone.
Limitations of WhatsApp
The main limitation of WhatsApp is that it works only on certain operating systems. For now, it works only on Android, Blackberry and Nokia Smartphones. You should also have the latest version of the browser to connect WhatsApp Web. WhatsApp does support iOS Smartphone users also even though an official announcement on it is not yet done.
Steps to Set up WhatsApp Web on a PC or MAC
Before you start the setup process, you need to make sure WhatsApp is installed in your Smartphone. Your Smartphone should be a Windows based phone or an iOS or an Android phone. WhatsApp Web will work only on these 3 platforms. Once you have installed the WhatsApp in your Smartphone, the next requirement is a compatible browser. You can use the Chrome browser, Opera browser or Mozilla Firefox to set up WhatsApp Web on your PC.
The next step to set up WhatsApp Web on a PC or MAC is synchronizing your system to the WhatsApp Web version. The process of synchronizing your PC with WhatsApp Web is comparatively easy. From the WhatsApp Web, you can get the QR code and after that, scan the code with the help of your Smartphone. To get the QR code, you need to access the link web.whatsapp.com.
Now open your WhatsApp messenger app. From there, go to the Menu option or key. Next, click on WhatsApp Web. To successfully connect your PC or MAC to WhatsApp Web, scan the QR code.
You can also set up WhatsApp Web on many PCs. To set up WhatsApp on multiple PCs, you need to open WhatsApp on the Smartphone and then go to Menu Key and from there select the option WhatsApp Web. Each and every device that is connected to the WhatsApp Web is listed here. By clicking on the "+" icon, you can add a new system to connect to the WhatsApp Web version.
Instead, if you are using a tablet, you can also install WhatsApp app for tablet. You need to keep in mind that it is not the official version that you will be installing in your tablet.
Conclusion
The popularity of WhatsApp has reached sky high. Today, most users have WhatsApp installed on their Smartphone. Following this trend, WhatsApp has now launched WhatsApp Web. You can easily set up WhatsApp Web on a PC or MAC by following the steps mentioned here and enjoy using WhatsApp on your home computer or tablet as well.
Related Posts