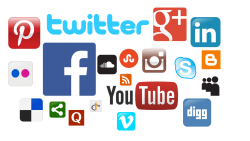 The credibility of your social media profiles is very important. You can easily check the credibility of your social media profiles by verifying the social media profiles with a verification badge. Having the verification badge for your social media profile means you get more credibility, more social presence and more attention from others. Social media sites like Facebook, Twitter and Instagram give verification badges for high profile users like celebrities, politicians, and business tycoons.
Benefits of Verifying Your Social Media Profiles
You enjoy a lot of benefits by verifying your social media profile. The main advantage of verifying your social media profiles is the ability to protect your integrity and prevention of identity theft or misuse of identity. When a verified account holder rules out any information, the credibility of that information increases.
Information provided by a verified account on your social media profiles will also help to increase brand visibility. When fans search online for information, if they see that the information is provided by a verified account holder, they will trust the information more than that provided by an unverified account holder. The impression created by such an account holder will help to increase the brand value. Today, it is very important to create a brand value online, and with the help of a verified social media profile it becomes easy to create an impression and increase your follower rate.
Steps to Verify Your Social Media Profiles
To verify your Facebook profile: To verify your Facebook profile page, you need to put in a request to the social media network. The application form should contain a fully authorized document mentioning the real identity of the user. Once your profile has been verified, you will get a blue badge next to your profile or page. Many celebrity or high profile user pages have these verified badges.
To verify your Twitter account: A blue badge also appears near to your account if it is a verified Twitter account. It will be seen next to the name of the account holder. Unlike Facebook, Twitter will automatically generate verification badges for high profile accounts. If your social media profile account is not verified, you can request a claim to ask Twitter to verify your account. You need to keep in mind that if any information like the name, address etc. changes, the verification badge will disappear. You will need to resubmit a claim to verify your account in that case.
To verify your Instagram profile: In the year 2014, Instagram announced that they would be issuing verification badges. However, some legal issues have prevented Instagram from offering verification badges to profiles. As of now, only certain high profile Instagram accounts have verified badges and the average joe will have to wait for the legal tangles to straighten out.
To verify Your Pinterest page: You can keep your company URL in your Pinterest page and keep a link between your Pinterest page and your company. You need to integrate HTML validation code in your company website to verify your Pinterest page.
Conclusion
Almost all social media sites provide the option to verify your social media profiles. You can verify your social media profiles easily and increase your credibility and increase your online presence. When people look at your profile they can be assured that you are who you say you are.
Related Posts