You have a bazillion things going on in your life. You think you can manage them all using just your hippocampus. In reality, you can't. That is why there is Rainlendar.
Rainlendar Overview
Rainlendar is a terrific multi-platform task management tool that allows users to easily and efficiently manage their life. There are three main components of Rainlendar:
Calendar
Events list
Todo list
The calendar displays an orthodox monthly calendar, marking the current day with the option of displaying visual marks on individual days to indicate there is an event/task set for that particular day: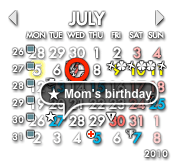 (Screenshot by the developer.)
The events list lists the events you have created: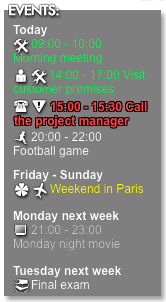 (Screenshot by the developer.)
The todo list shows the tasks you have scheduled: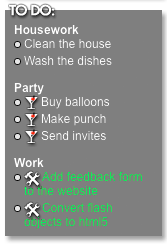 (Screenshot by the developer.)
All three components are mutually exclusive in the sense that if you don't want to use all three, you don't have to. You can turn off any of them at will: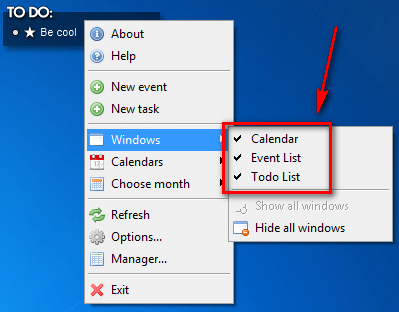 Events List
For the events list users can add, edit, and delete events: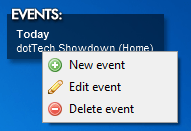 Each individual event can be assigned a time-frame, an alarm/reminder, assigned to a particular calendar, categorized by category, and set to reoccur automatically: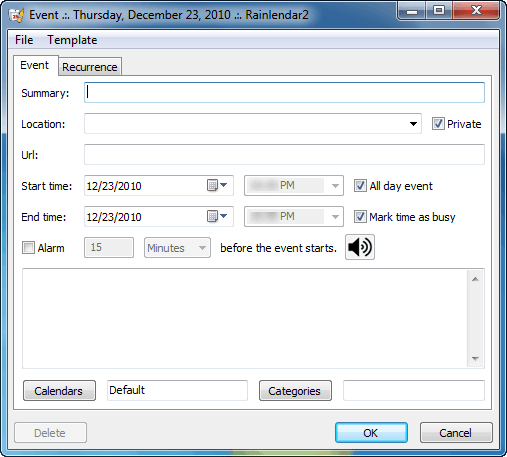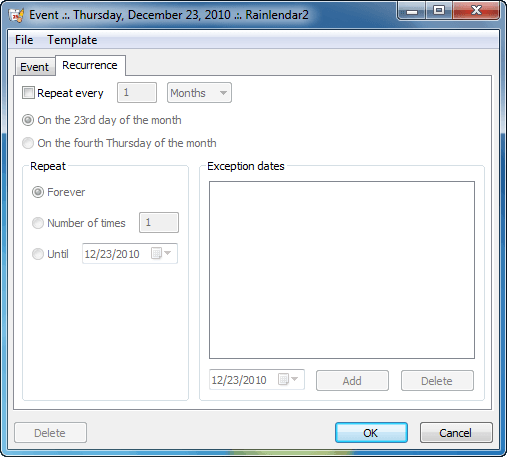 Todo List
For the todo list users can add, edit, and delete tasks; change the completion status of each task; cancel tasks; select how the tasks are displayed (how they are ordered); and hide/show completed, canceled, and future tasks: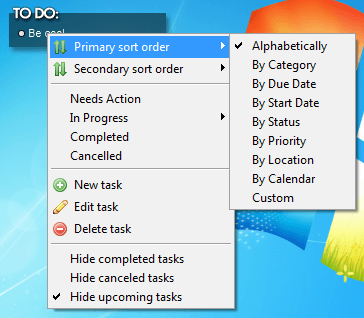 Individual tasks have the same properties as individual events, except tasks also have priority and status properties: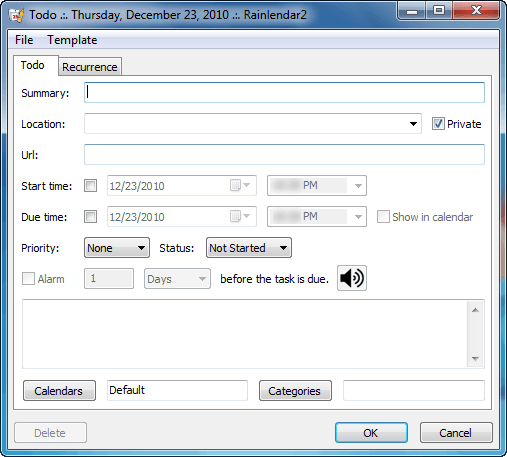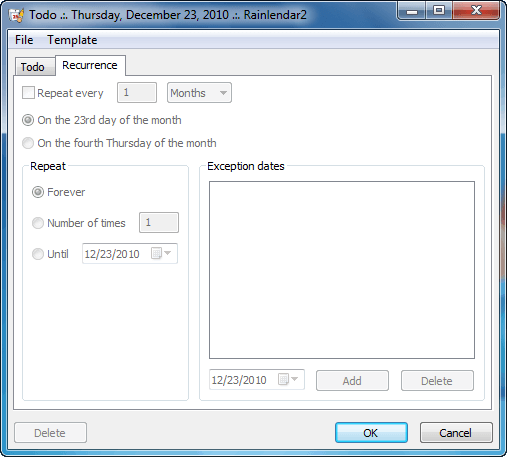 High Degree of Personalization
You may notice how my screenshots and the screenshots borrowed from the developer differ in regards to what type of information the calendar, even list, and todo list display. This is because Rainlendar allows for a large amount of customization in regards to how the three components behave:
The customization of Rainlendar isn't limited to the calendar, event list, and todo list. The whole program, from top to bottom, left to right, is customizable: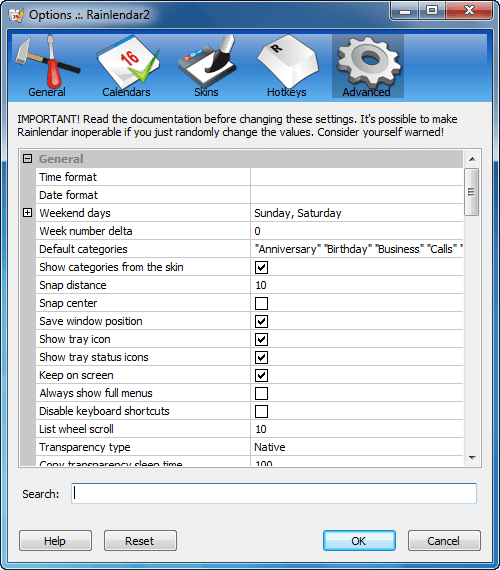 Beautiful Skins
Rainlendar is highly skinnable: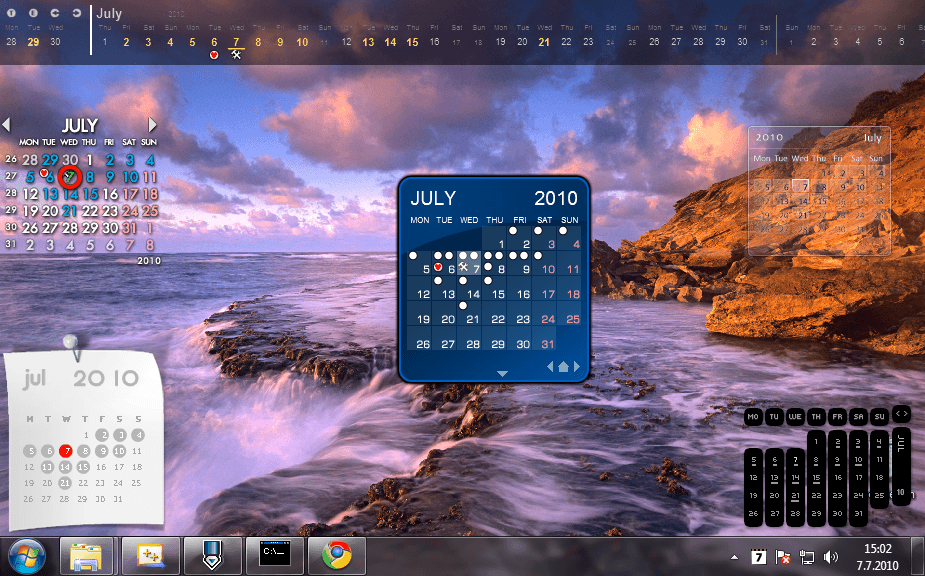 (Screenshot by the developer.)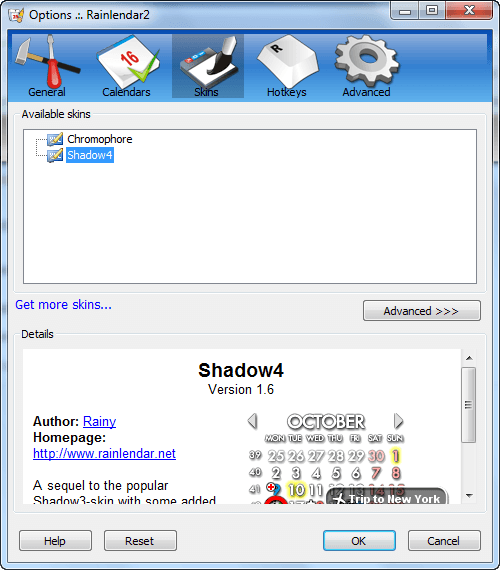 If you don't like the two skins that come with the program, you can download hundreds of other ones.
Skinning isn't just changing how the program looks. Skinning also involves adding extra components (i.e. having multiple calendars, multiple event lists, multiple todo lists, etc.) to Rainlendar: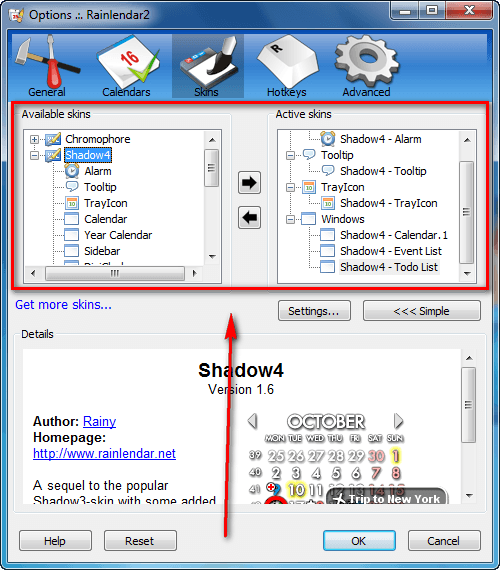 Each component of a skin that you make active is customizable. For example, you filter the event list to only show the events associated with a specific calender, to exclude specific categories, and/or to only display specific categories. This way you can have different lists for different calendars, or categories if you want. You can do the same for todo lists and calendars.
Other Features
To make it easier to manage events and tasks, Rainlendar has a manager which allows users to easily manage all events and tasks: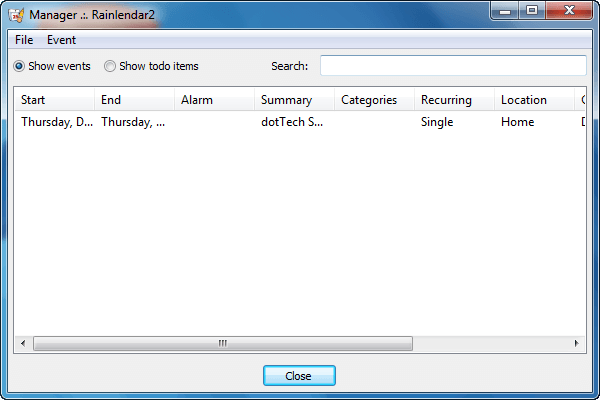 Via the manager users can not just manage their events/tasks. They can also import (iCalender format or Rainlendar ini format), export (Rainlendar ini format), backup (.ZIP format), and restore (.ZIP).
For those people that like to have separate calendars for different parts of their life (i.e. work and home), Rainlendar allows users to create multiple calendars…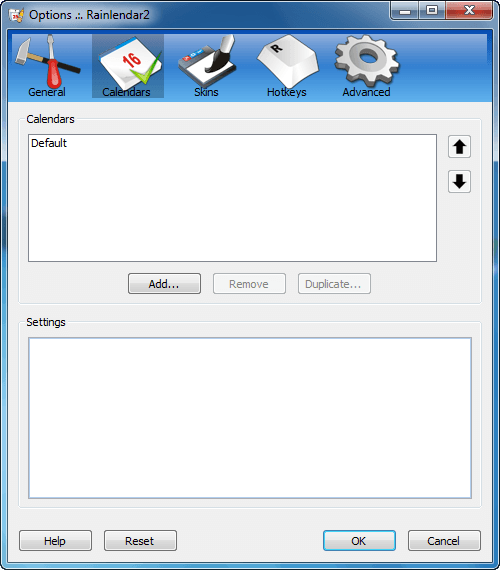 …and when creating events and/or tasks, they can be assigned to a particular calendar (as already discussed). At will you can enable each calendar so the two lists don't display their respective events/tasks: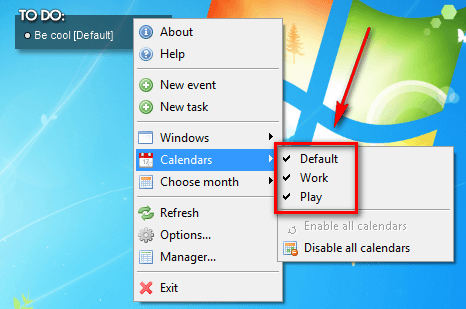 Rainlendar has extensive hotkey support: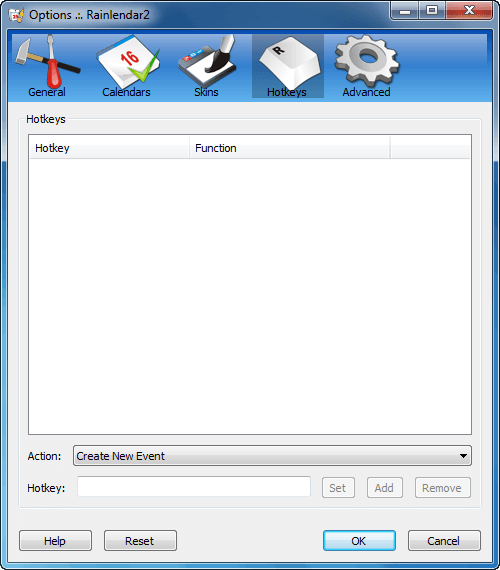 Hotkeys can be set for:

Rainlendar can be made portable:
Copy everything from Rainlendar's program folder to the USB memory and create an empty text file called rainlendar2.ini in the same folder where the executable is. This will make Rainlendar2 store the settings and all the events and tasks to its program folder so the data will be on the USB memory too.
The Rainlendar Advantage
What makes Rainlendar different than other programs, you ask. Widgets, I respond. I have reviewed many task management programs. While other programs may have some widget support, all of them primarily work like traditional programs working out of a program window. Rainlendar is the only program I know that uses floating widgets for its calendar and lists. I personally find Rainlendar's widget approach to be brilliant, especially considering you are allowed to control how the widgets behave:
Using floating widgets to display list information is a terrific way of reminding users of the events/tasks they have scheduled.
Lite vs Pro
Rainlendar comes in two versions: Lite (freeware) and Pro* (€9.99 EUR or about $13.11 USD). The following are the differences between both versions: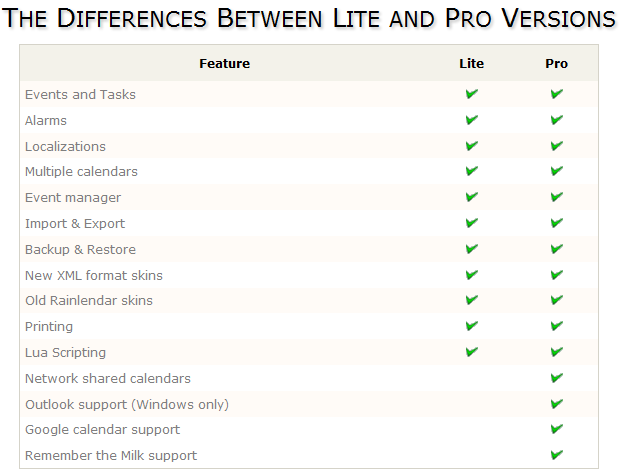 As you can see, the only difference between Lite and Pro is Pro has synchronization capabilities: It can share data over a network, and sync with Outlook, Google calendar, and Remember the Milk.
The Rainlendar Disadvantage
As a personal task manager – Rainlendar is not intended for heavy business use, mind you – Rainlendar is almost perfect. Almost. There are two areas were I find Rainlendar to be lacking:
I would like Rainlendar to have the ability to quickly filter events/tasks by clicking on dates in the calendar. For example, clicking on December 1, 2010 would hide all events/tasks except the ones for that day. Similarly, selecting December 3, 2010 through December 6, 2010 should hide all events/tasks except the ones listed for those four days. I find it fairly annoying that Rainlendar cannot do this already.
While Rainlendar has fairly good synchronization, and exporting/importing capabilities, I would like there to be better sync capabilities with mobile devices. Of course, sync with mobile devices can already be done indirectly if you purchase the Pro version: Sync both Rainlendar and your smartphone with Google calendar (Android phones should be able to do this easily, while other smartphones may need some special app). As the Google calendar is updated, both are updated. However, having something like official Rainlendar apps on each smartphone platform would be a lot better.
Conclusion and download links
I have two words to describe Rainlendar: Bloody brilliant. You can grab Rainlendar from the following links:
Version reviewed: v2.7 Build 91
Supported OS: Windows XP SP3 or higher, Mac OS X 10.5 or newer, Ubuntu 7.10 or newer/similar distros
Download size: About 5 MB for the Windows version

Price: Lite is free while Pro is €9.99 EUR
*If you are thinking about purchasing Rainlendar Pro, be sure to download the trial version of it before you purchase to make sure it fits your needs! The trial is fully functional – it just has a watermark on sync calendars.
Related Posts