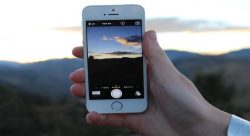 Are you an iPhone user? Do you love to take live photos with your iPhone? The new live photos feature is available in the latest edition of iPhone, i.e., iPhone 6S. Let us see how you can take live photos with your iPhone.
What is a Live Photo?
A live photo is something that is similar to an animated GIF image. Using the latest iPhone, when you take a picture of an object that is moving, the iPhone actually takes a small movie of it. Now, when you apply pressure using the 3D touch feature in your iPhone, the picture will become lively.
The live photo feature actually creates a .MOV file and stores the file in your iPhone. The only problem with this feature is that the file takes up more space compared to an ordinary picture file. Therefore, you need to be selective when using this feature.
The live photo feature is considered one of the coolest recent features launched by iPhone and is loved by everyone. Here are some tips for taking live photos with your iPhone.
Moving Subject:

When using the live photo feature in your iPhone, make sure the subject is moving and you're remaining still. If you try to capture a subject that is not moving, then, there is no point for using the live photo feature as you will not be able to see any effect of it when playing the image captured.

Takes Time:

Another important point to understand is that the live photo capture will take more time compared to taking a picture. You can confirm that your mobile is taking

live photos with your iPhone

when the "Live" box appears in the center of the image that is being captured. After it has successfully captured the subject, the "Live" icon will disappear from the screen.

Remain Still:

When using the live photo feature, it is important for you to

remain still

as the subject of whom you're taking the picture is moving. As informed earlier, a live photo will take few more seconds compared to the time for taking a picture, therefore you need to remain steady until it is over.

Sound:

When you capture

live photos with your iPhone

, it records

sound

also. So, you need to make sure you don't breathe loudly and there is no

sound

loud sounds so they won't interfere with your live picture sounds.
Editing Live Photos with Your iPhone
An iPhone not only supports taking live photos, but it also supports editing them. For editing a live photo you have taken, just open the live photo and tap on the edit option that is displayed at the bottom of the screen. Just like editing any other photo, here also you can see various options like color, rotate, and crop to edit the photos. Once done with the edit, tap on the option "Done" to save the changes.
You can also set live photos as your iPhone wallpaper and get a kick out of it each time you open your phone.
Conclusion
The live photos with your iPhone are an excellent feature that is introduced in the latest version of iPhone. Once you are familiarized with using this feature, you can easily master it. Just don't go crazy or you'll soon run out of space to save them!
Related Posts