Unicode is a beauty. With over a 100,000 characters to its name, Unicode not only enables use of non-Latin character languages but it also enables users to use special characters and symbols like, say, a snowman. The problem is many of these special characters and symbols are often hard to type with a normal keyboard, requiring users to know the trick involved with each one. Well CopyPasteCharacter will have none of that.
CopyPasteCharacter is a website that does one simple thing: It allows users to copy special characters/symbols to Windows clipboard, after which users can paste the characters/symbols wherever they like. Do take note, though, many of characters/symbols will only work where Unicode is supported.
Using CopyPasteCharacter is very easy:
Visit their website.
Click on the character/symbol you want to copy.
Paste it wherever you want.
Users that want to copy multiple characters at one time can hold the alt key on their keyboard and click on multiple characters/symbols; all characters and symbols clicked on while holding the alt key are copied to Windows clipboard together.
These are all the characters/symbols CopyPasteCharacter supports: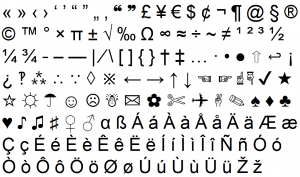 Furthermore
Users that decide they no longer want the copied character(s)/symbol(s) can clear Windows clipboard by clicking on Clear located at the top:

The special characters/symbols can be copied in their HTML format. Users that want the HTML format need to click on As HTML in the top bar:

Clicking on As Text gets you back to text format.
There is an iPhone app available from iTunes for you iPhone users. I don't know if its a free app or not – bloody iTunes website won't let me view the app without downloading iTunes.
You can access CopyPasteCharacter from the following link:
Browsers supported: All browsers that run Flash
Related Posts