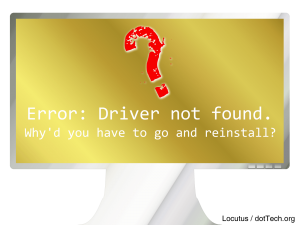 Have unusual hardware?  Do you spend hours hunting down drivers for your computer every time you do a reinstall?  Go right to enjoying your new installation with Double Driver, a free piece of software that lets you back up, restore, and even print out a list of your drivers.
Why back up instead of search
If you don't reinstall that often, you're probably wondering what the advantages of backing up your drivers is.  For one, if you ever do need to reinstall, you'll have them.  Plus, if you need to give a copy to a friend with the same computer, you can do that.  All in all driver backups are pretty much a "must" for any computer.
Backing up your drivers
Luckily, with Double Drivers backing up is as simple as pressing a few buttons.  Upon starting the program (dd.exe), you'll find a minimal start page: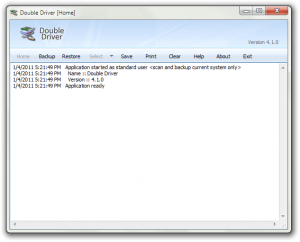 Simply click the Backup button to begin the process.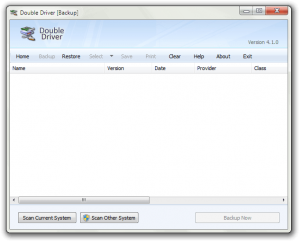 You can either have Double Driver scan your current system or another system.  Scanning another system requires restarting the program as Administrator and selecting the directory, while scanning your current system requires one single click.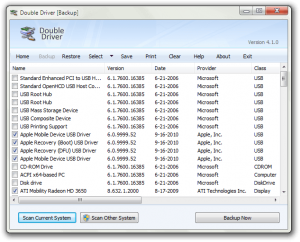 After scanning your system, Double Driver will select all non-Microsoft drivers.  However, if there are drivers you don't want, like the iTunes ones, you can simply uncheck them.  When you're done selecting, just hit Backup Now, which will prompt you for a backup directory.
Your options for backups are a self-extracting EXE, a folder, and a ZIP folder.  By default the selection is just a normal folder; don't change it unless you know why you want to.  Clicking OK will start the process: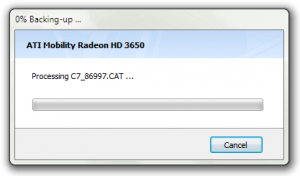 Upon successful completion, it will beep and pop up a message.
At this point in time, you can just stick the backup some place safe like a CD, a thumb drive, or a USB hard drive for keeping until you need it.
Restoring a backup
There comes a time in every computer's life when you have to reinstall its operating system.  Luckily, you already made a backup… riiiiight?
To restore your backup, open Double Driver again, this time as an Administrator.  Upon opening, just hit the Restore tab.  If you forgot to run it as Administrator, you'll be prompted to open the program again.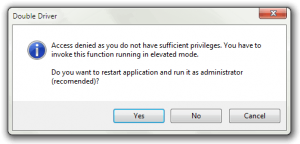 Just hit Yes and go back to the Restore tab.
Upon selecting the Restore tab, you'll be prompted for the location of your backup: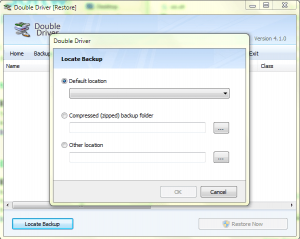 Just select a location and a backup.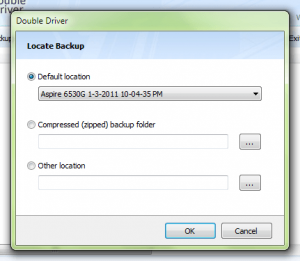 Click OK and on Restore Now to begin your restoration.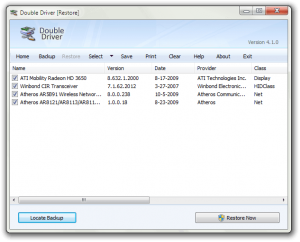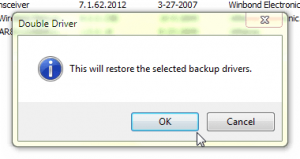 It will lead you though a series of standard installation screens.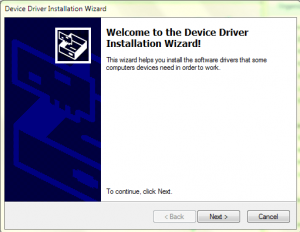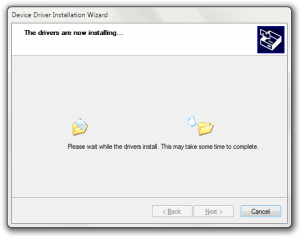 When it's done, simply restart your computer and get to using it!  Restoring drivers has never been so easy.
Saving a list of your drivers
The last cool function DD provides is a list of all of your drivers.  Clicking the Save button will prompt you for a location: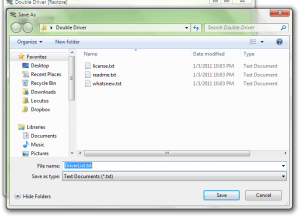 Once it has finished saving, it will open in Notepad.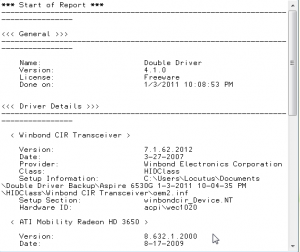 Saving a list of drivers is a good quick way to be sure you have all your required information.
Conclusion
Backing up drivers individually is a surprisingly easy task that is not widely publicized.  Backing up your drivers lets you play around with and reinstall your operating system without fear of losing hardware compatibility.  Double Driver is a free download, for any Windows XP or newer.
Version reviewed: v4.1.0
Supported OS: Windows XP/Vista/Win7

Download size: 2.1MB
Related Posts