Looking for a professional-grade photo manipulation software? This may be your chance to get one, without having to pay a cent. Recently CyberLink released the Beta version of their PhotoDirector software: PhotoDirector 2011 Beta. As a way to encourage people to participate in the Beta program (so bugs can be found, issues can be fixed, etc.) CyberLink is offering PhotoDirector 2011 ($99.95 value) for free – when it is released –  to anyone that takes part in the Beta program and "provide[s] feedback by June 20th":

Update: The fine details mention you will get a 90 day trial of PhotoDirector 2011 Beta and you must be 18 years or older to get PhotoDirector 2011 for free:
Limitations – Participants will receive a 90 day trial version of the [Beta] software by providing a valid email address

Feedback – To receive the full version of the software after it is released, participants must be over 18 years of age and provide feedback to a designated CyberLink email address related  directly to how the participants experienced PhotoDirector by June 20th, 2011.
At the time of this writing Beta signups are available to everyone (they may be closed later on if many people signup, so hurry if you want to get in on this). Signing up for Beta is as simple as entering your name e-mail address and following on-screen instructions: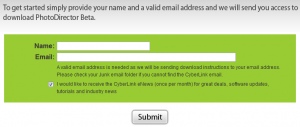 I have not personally tried PhotoDirector – so I don't know how good or bad the software is – nor have I tried to participate in this offer, so I don't know exactly how providing feedback works. However, for those of you that are willing to learn a bit as you go (i.e. use PhotoDirector 2011 Beta, think of some feedback to provide to CyberLink, find out how you can provide feedback, confirm with CyberLink you will get PhotoDirector 2011 for free when it is released, and wait until it is released), this is a great opportunity to get CyberLink PhotoDirector 2011 for free. Hit up the link below to signup for the Beta program and get the ball rolling:
CyberLink PhotoDirector 2011 Beta signups
Thanks Sascha!
Related Posts