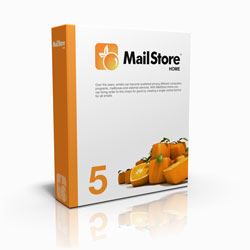 Over two years ago I wrote about MailStore Home, an excellent free program that allows users to easily backup e-mails from many different providers/sources (Gmail, Hotmail, Yahoo, Outlook, Thunderbird, POP3/IMAP inboxes, etc.). Recently MailStore Home has been updated to v5, which brings a few handy changes.
The most important improvement in MailStore Home v5 is the fact that it is now portable; you can put MailStore Home on an external drive – e.g. USB/thumb drives, external hard drives, etc. – and take it with you wherever you go. That means not only will you have MailStore Home with you, in case you need to conduct a backup while on the go, but also the archive of e-mails you backed up, in case you ever need to access any archived e-mails on the go.
In addition to making the program portable, with v5 of MailStore Home comes (following two descriptions as per the developer):
Auto Configuration of Settings: Before the archiving process, MailStore Home 5 automatically recognizes email account settings based on each email address, ensuring a seamless archiving experience
New User Interface: MailStore Home 5 offers a re-designed, modern user interface that is highly intuitive and makes archiving easier than ever
Call me Mr. Obvious (or Mr. Boss, if you prefer) but a great program just got great-er.
One thing to note is that MailStore Home does not have separate downloads for portable and installer versions. There is only one download of MailStore Home and you decide during the instillation process which version you want to use: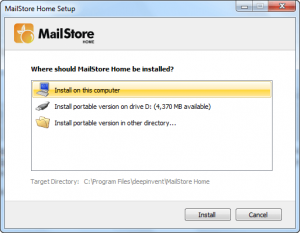 You can grab MailStore Home from the following links:
Version reviewed: v5.0.0.6684
Supported OS: Windows 2000, XP, Vista, 7, Server 2003, 2008
Download size: 5.9 MB
MailStore Home homepage [direct download]
Related Posts