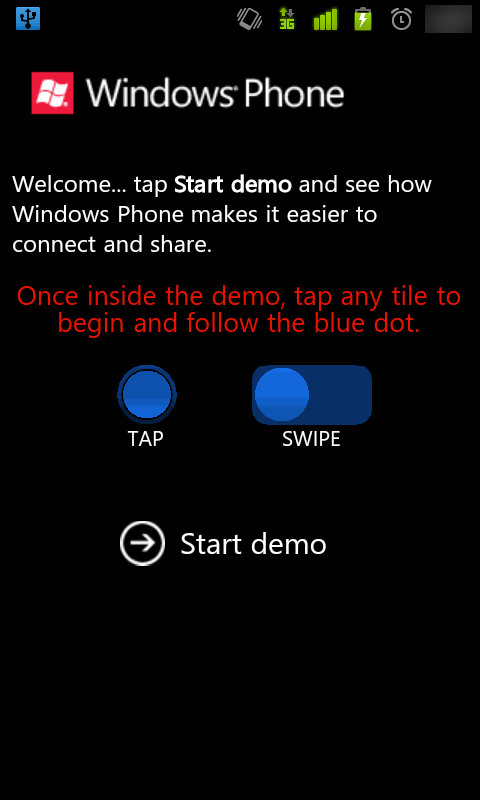 Want to know how the other 5% live? Microsoft has launched a web-based Windows Phone 7 emulator (probably written in HTML5), allowing iOS and Android device owners to see if the grass is truly greener on the other side by simply visiting http://aka.ms/wpdemo in their web browser.
The online emulator is an interactive demo of WP7, with users having the ability to click on tiles, read e-mails, view images, etc. However, it is a guided demo. Once you start the demo and click on a tile at the home screen, blue circles lead you throughout, telling you where to tap and showing off the features of WP7 in the process. Of course since this is a web based demo, don't expect to experience the full richness (or lack thereof, depending on which side of the fence you sit on) of WP7. For example, you won't be able to use apps or freely roam the platform. However, it does give Android and iOS users an elementary feel of what to expect from WP7.
Unfortunately it appears this demo is for people with Android/iOS devices only; and it appears to work only in the default browsers for each respective platform. Visiting the demo link on any other type of device (PC, Mac, etc.) and using any browser other than the default one (i.e. Opera Mobile) brings up a sad message that "your device or web browser isn't supported at this time."
Update: It appears the WP7 demo works in Chrome on Windows. However, it doesn't work in Firefox, Internet Explorer, and Opera. Thanks Caleb for pointing this out!
Hit up the link shown below on your Android or iOS device and be sure to share with the rest of us what you think.
[via Engadget]
Related Posts