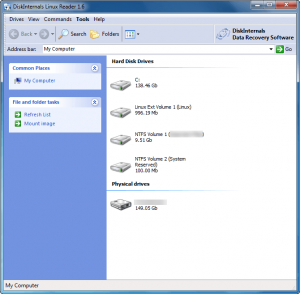 Linux enthusiast are you? Good for you. Mac user? Eh, it is your life. My guess is even as a Linux enthusiast and/or Mac user you are dual-booting with Windows because, frankly, it is extremely hard to ditch the operating system most of the world uses. One issue with dual-booting Linux/Mac with Windows are the different file systems: Windows uses NTFS whereas Linux uses Ext2/Ext3/Ext4 or ReiserFS and Mac uses HFS/HFS+. The difference in file systems makes it difficult to access files stored in Linux/Mac from Windows. DiskInternals Linux Reader aims to change that.
What Is DiskInternals Linux Reader?
DiskInternals Linux Reader is a program that reads partitions/disks formatted with Ext2/3/4, ReiserFS, HFS/HFS+, FAT, exFAT, and NTFS file systems. Since it is a program that runs in Windows, the main use of DiskInternals Linux Reader is to read Linux (Ext2/3/4 or ReiserFS) and Mac (HFS/HFS+) partitions/disks.
Read-Only Access
With Linux Reader you are given read-only access to files. You cannot write to any partitions/disks from Linux Reader, meaning you cannot edit files — you can only view them. If you want to modify files, Linux Reader allows you to make copies of files onto your local or networked Windows partition/disk.
How It Works
DiskInternals Linux Reader works similar to a regular file explorer. You run Linux Reader, double-click on the partition or disk you want to explore, and find the file(s) you want. Then you save ("recover") the files to your local or networked Windows partition/disk. (You are allowed to save multiple files at a time.)
Linux Reader has a built-in file preview but it only supports specific file types (some image types, some video formats, office documents, text files, HTML files, and a few others which I was unable to test). If you are looking for files that happen to be supported by Linux Reader's built-in file preview, you can preview the file(s) before saving them.
When you are done grabbing the files you want, simply close Linux Reader. Remember Linux Reader gives read-only access so you can save files from Linux/Mac partitions but you cannot save files to Linux/Mac partitions.
Advertisements In Program
Linux Reader is one of the freeware programs offered by DiskInternals Reacher, the developer. As such, Linux Reader has advertisements inside it for DiskInternals' other software. Most all the software you see listed under the Tools menu are shareware programs offered by DiskInternals. When you click on any program under Tools you will be told the software is not installed and will be asked if you want to download it. If you decide to download it you will be taken to a download page on the developer's website from where you can download whichever program you want.
You are more than welcome to download other programs offered by DiskInternals. Just realize most of them are not freeware.
Does It Contain Malware?
The developer of DiskInternals Linux Reader is DiskInternals Research. DiskInternals Research's website is listed as clean by SiteAdvisor and WOT but some "malware watcher" websites list DiskInternals as a "distributor of malware". I scanned DiskInternals Linux Reader with multiple anti-malware software. As far as I can tell, DiskInternals Linux Reader is clean. (If it wasn't clean I wouldn't be posting about it.) Still, proceed at your own risk — Ashraf and dotTech are not responsible for any gain or harm incurred by you.
Conclusion
The read-only access limitation is the major con with DiskInternals Linux Reader. However, even with such a limitation, DiskInternals Linux Reader is an extremely useful program for those that use operating systems other than Windows.
You can grab DiskInternals Linux Reader from the links below:
Version reviewed: v1.6
Supported OS: Windows 95/98/ME/NT/2000/XP/Server 2003/Vista
Windows 7 is not listed as being supported but it works just fine in Windows 7
Download size: 4.7 MB
Malware status: VirusTotal scan results (3/42)
DiskInternals Linux Reader homepage [direct download]
Thanks newJason for the tip that inspired this article.
Related Posts