Update: Wow, it seems either the 20,000 copies were used up or Green Man Gaming ended the promotion early. Either way, this promotion is now over — it ended very quickly. Sorry for those that missed it! Subscribe to dotTech (e-mail | RSS | Facebook | Twitter | Google+) to ensure you don't miss freebies in the future!
Attention all gamers, attention all gamers. Green Man Gaming is giving away 20,000 copies of their game Sniper: Ghost Warrior:
Sniper Ghost Warrior is set on the fictitious South American island of Isla Trueno, where a despotic military regime lead by the ruthless General Vasquez has overthrown its democratic government to seize control. As one of a group of covert commandos, the player is charged with infiltrating the rebel stronghold and overthrowing the unelected powerbase. Intelligence reports indicate that Vasquez is due to chair a meeting with his cohorts in an old refinery facility, and a government plant is in place to set up an assassination opportunity for the crack unit. But as the unit arrive on the island, it soon becomes clear that the plan has gone awry, and the team must adapt and use their combat skills if they are to complete the mission.

Realism is at the heart of Sniper Ghost Warrior, and the game enjoys a truly realistic ballistic system that accounts for the distance of a shot, fall-off of the bullet's trajectory, and environmental factors, such as wind direction. Similarly, the lush jungle environments, allow the user to use the cover of the foliage to take out key targets, while other members of your squad can act as 'spotters' to detail the positions of key adversaries. Players must also manage the breathing of their sniper to provide a more accurate shot, while the game's 'Bullet Cam' system offers stunning close-ups as the bullets thud into their unsuspecting targets.

The mission spans 16 stages, starting with the problematic assassination attempt at the refinery, and moving on to oilrigs, a mine, the coast, and a set of ruins as the game's plot continually surprises. Each level is brought to vivid life with the many rustles of the jungle keeping the player in a constant state of alert, and the sniper elements mixed with incredible firefights, as the enemy break cover and the squad is forced to engage in open combat.

Sniper Ghost Warrior represents a clever take on the military simulation genre, and also allows users to hone their sniper skills in a series of unique multi-player modes, wherein up to 16 players can compete simultaneously.

Features:

Enjoy a fully realistic ballistic system that accounts for distance falloff and environmental effects such as wind
Manage your breathing for increased accuracy of sniper shots
Cooperate with your spotter for a better performance
Watch your bullets strike the enemy with pin-point accuracy In Bullet Cam mode
Take part in the assault team sections
Wonderfully reproduced jungles of the South American rain forests
Advanced character animations
The most realistic sniping experience in a video game ever
A breathtaking story of the rise and fall of a ruthless dictator
I haven't heard of Sniper: Ghost Warrior myself so either that means I am out of touch with the gaming world (which is true) and/or Sniper: Ghost Warrior is a terrible game so no one talks about it (which may or may not be true — I haven't played it).
This particular promotion is a non-Steam promotion so you cannot redeem or play the game on Steam; and it is on a first come, first serve — the promotion ends when 20,000 copies are given away.
Sniper: Ghost Warrior Minimum Requirements

OS: Windows XP SP3, Vista SP1 or Windows 7
CPU: Pentium 4 @ 3.2 GHz / AMD Athlon 64 3500+
RAM: 1 GB / 2GB for Vista and 7
HDD: 6 GB free disk space
Graphics: 256MB Graphics Memory with Shader Model 3.0
Sound Card: DirectX 9 Compatible
DirectX: Version 9.0c
To get Sniper: Ghost Warrior for free, visit Sniper: Ghost Warrior's page on Green Man Gaming's website and click the Buy Now button:
Then click Checkout at the cart page and proceed to checkout: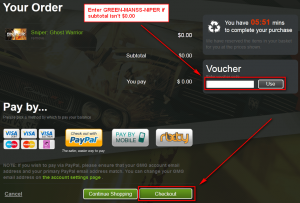 You will need to log into your Green Man Gaming account or create an account. Take note Green Man Gaming's website is very unstable right now so you may get lots of 504 Gateway errors, "Emergency Repairs!" errors, etc. If you get errors just keep trying — eventually it will work.
Enjoy!
Thanks Prema!
Related Posts