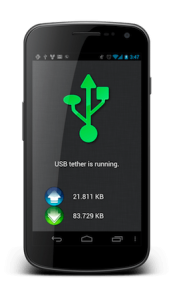 Not satisfied with any of the tethering apps mentioned in dotTech's best free tethering (and WiFi hotspot) app article? Maybe ClockworkMod Tether is more of your liking.
What Is ClockworkMod Tether
ClockworkMod Tether is a new app by Koush, the famous dev behind ROM Manager; it allows users to share the Internet connection from their Android device to their computers (Windows, Mac OS X, and Linux) using a USB wire without requiring root access.
ClockworkMod Tether is similar to PdaNet and EasyTether in the sense that it is a two-part one — it requires you to download a program to your computer and install an app on your Android device to work. This two-part process is the tradeoff required for not requiring root access.
What Makes ClockworkMod Tether Special
At this point you must be thinking "okay so if this is the same as PdaNet and EasyTether why should I bother using it". What makes ClockworkMod Tether special is Koush has designed it to specifically avoid detection by carriers. You see carriers want you to pay them extra money to tether your Android device to your computer; and in order to stop you from tethering without paying them, they have clever ways of detecting when you are tethering. Koush claims his ClockworkMod Tether app employs methods that make it harder for carriers to detect when you are tethering.
I say "claims" because I have been unable to test his claims. My carrier isn't very anal about tethering and I am able to successfully tether whenever I feel like it, without having to purchase an extra tethering plan. However, Koush is a highly respected and well known developer so if he says ClockworkMod Tether avoids detection by carriers, then it probably does.
Disclaimer: dotTech and Ashraf are not responsible for any fees you may incur.
Wireless Tether
At this time only wired USB tether is supported but Koush promises to add wireless bluetooth tether in the future. Wireless WiFi tether will most likely never happen with ClockworkMod Tether because the whole point of this tether app is to not require root; and the only way to do Wireless WiFi tether is to have root access.
Free or Paid?
I asked Koush if he plans on making ClockworkMod Tether free or paid. He said there will be free and paid versions. However, he did not elaborate what the differences between ClockworkMod Tether free and ClockworkMod Tether paid will be. Hopefully he won't follow PdaNet and EasyTether Lite's example and won't restrict ClockworkMod Tether free to only specific types of Internet access.
Alpha Status
At the time of this writing ClockworkMod Tether is a new app; it is in Alpha stage right now. So not only is it not fully finished, but it may contain bugs although it worked perfectly for me. There is no timetable for when ClockworkMod Tether will be at public release but I will be sure to post about it when it is.
Note: The current version of ClockworkMod Tether Alpha is set to stop working January 7, 2012. On the 7th you have to download and install the updated version of ClockworkMod Tether Alpha to continue to use it.
Using ClockworkMod Tether
To use ClockworkMod Tether do the following:
Note: ClockworkMod Tether works for Windows, Mac OS X, and Linux; but the directions below are for Windows PCs — Mac and Linux directions may differ. Also, ClockworkMod Tether works for all Android phones but may or may not work for tablets. Finally, the process of installing and using ClockworkMod Tether may change once it has reached public release status; what I am describing below is how to use ClockworkMod Tether Alpha.
Make sure the proper drivers for your Android device are installed on your computer. The drivers you need are the "adb" drivers — the ones that are used when you put your device in USB Debugging mode. If you don't have the drivers installed already, visit this page and install the ones for your specific device.
Download and install ClockworkMod Tether on your computer. Installing ClockworkMod Tether is like installing any normal program; but during installation you will be asked to install a special driver — install it or else ClockworkMod Tether won't work.
Once you have ClockworkMod Tether installed on your computer, turn USB Debugging mode on for your Android device. This can be done by going to Systems -> Applications -> USB development -> USB debugging for Android 2.3.x and lower and System settings -> Developer options -> USB debugging for Android 4.x and higher.
Connect your Android device with your computer using a micro USB wire.
Run Clockwork Mod Tether on your computer and click Start: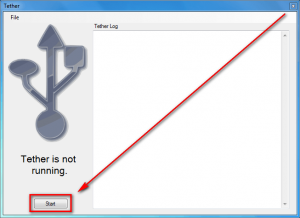 When you hit the Start button ClockworkMod Tether will look to see if your Android device has the ClockworkMod Tether app already installed or not. If the app is not installed (i.e. this is the first time you are running ClockworkMod Tether), ClockworkMod Tether – the desktop program – will automatically installed ClockworkMod Tether (the Android app) on your Android phone. This all happens automatically after you hit Start so just be patient while you wait, although if you find yourself waiting for a long time then something has gone wrong.
After ClockworkMod Tether has either detected or installed the ClockworkMod Tether app, it will start tethering. You know you are successfully tethered when the ClockworkMod Tether program on your computer displays the following…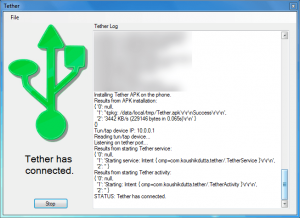 …and the ClockworkMod Tether app on your Android device displays the following: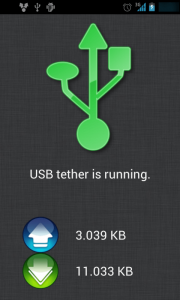 When you are done tethering, clicking tapping on the green icon in the ClockworkMod Tether app allows you to stop tethering; or you can simply disconnect the USB cord.
Whenever you want to tether again, simply run ClockworkMod Tether program on your computer and hit Start — it will automatically launch the ClockworkMod Tether app on your device and start tethering. Do take note, however, you must always have your Android device in USB Debugging mode to use ClockworkMod Tether.
Uninstalling ClockworkMod Tether
If you want to get rid of ClockworkMod Tether, uninstall the program from your computer and the app from your Android device like you would any other program/app. Do take note, however, the Android app goes by the name Tether not ClockworkMod Tether.
Conclusion
It is hard to make a decisive conclusion on ClockworkMod Tether while it is in Alpha stage as to if it offers anything better than the non-root-wired-tethering apps PdaNet and EasyTether. In my opinion what will make or break ClockworkMod Tether is if it follows PdaNet and EasyTether's examples and limits the free version to HTTP only or if it allows users to have full Internet access. So far, however, ClockworkMod Tether looks promising.
You can grab ClockworkMod Tether from the links below. Take note you must download the programs onto your computer — the computer programs will automatically install the Android app on your device.
Version reviewed: Alpha
Supported OS: Windows, Mac OS X (10.7+), Linux
Download size: 3.7 MB (Windows Version)
Malware status: VirusTotal malware scan (0/43) – Windows version
ClockworkMod Tether temporary homepage
Thanks Chad Tunis!
Related Posts