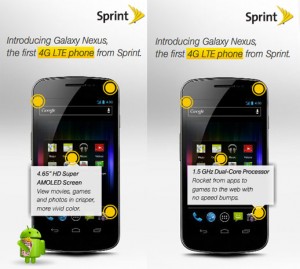 Live in the USA, want some Galaxy Nexus goodness, but don't want/are not on Verizon? Ads running on CNET – which have since been pulled, by the way – today revealed Galaxy Nexus will be coming to the Now Network as Sprint's first ever LTE device. Interestingly enough Sprint's version appears to have a 1.5 GHz dual-core processor which is 300 MHz faster than Verizon's Galaxy Nexus and the GSM Galaxy Nexus; everything else – such as the 4.65″ 1280×720 Super AMOLED screen, vanilla Ice Cream Sandwich (see what I did there?), etc. – appears to be the same.
You know what would make this news even sweeter? If Sprint continued to offer their truly unlimited data plans and priced the Galaxy Nexus at $199 with two-year contract instead of Verizon's absurd $299 with two-year contract.
It is worth noting that Sprint's first LTE markets aren't slated to come online until middle of 2012, so we may not be seeing Galaxy Nexus on Sprint for a long time to come. Still, though, Sprint customers can feel all fuzzy inside knowing the latest and greatest Nexus device is coming to them eventually.
[via Engadget]
Related Posts