Software Description
The following is a description of BDLot Blu-ray Ripper, as per the developer:
Create Your Own Perfect Blu-ray Movie Collection on PC

BDlot Blu-ray Ripper is a pro-level Blu-ray decrypting and copy tool for users to protect and create backup on their purchased Blu-ray discs. It can instantly remove all-known Blu-ray copy protections and extract the whole BD disc content into M2TS video file or Blu-ray folder (compatible with Win7 Media Player and VLC). This powerful Blu-ray backup solution takes full control on latest encryption (AACS MKB v26), BD+ copy protection, Rom Mark, etc. All complicated technologies will be readily solved with 1-2-3 steps.

Copy Blu-ray to PC Hard Drive

This full-featured Blu-ray Ripper can help to copy and backup a 50G Blu-ray onto computer hard drive in case the source discs get scratched or loss. After around 25 minutes, you will be set free from any obstacles and the output M2TS video/Blu-ray folder are easily and freely accessible for popular media players, such as Win7 Media Player, VLC, etc.

Support All Blu-ray Related Copy Protections Support All Blu-ray Related Copy Protections

BDlot Blu-ray Ripper is one of the very few utility software that always give timely updates on Blu-ray related copy protections. By far it perfectly supports Blu-ray region code, UOPs, encryption AACS (even the latest AACS MKB v26, AACS bus encryption), BD+ (even the 10th Generation), Blu-ray BD-live from BD-video media.

Fast Blu-ray Backup Speed Delivered by Hi-techs

Thanks to modern advanced CPU instructions (MMX SSE SSE2 SSE3), high-end Blu-ray Reader Cache and Multi-core CPU (i3/i5/i7) supported technologies, it can make Blu-ray decryption fast and stable. Generally, backing up a 50G Blu-ray movie onto hard drive with around 25 minutes (the processing time also depends on your CPU and driver speed).

Full-HD Image and High-fidelity TrueHD Sound

BDlot Blu-ray disc Ripper can support Blu-ray DTS/E-AC3 and MLP/TrueHD Audio System and preserve original video effect. It decrypts Blu-ray to M2TS HD video with crystal clear image and high-fidelity sound as good as that of original Blu-ray movie. Even though the movie has been transferred from Blu-ray onto computer, it still keeps as highest video/sound quality.

Dual-mode Backup and other Flexible Choices

BDlot Blu-ray Ripper supports both Title Mode copy with selected title (generally the main title) and Full Disc backup with entire movie content. And the consequences will be led to M2TS video file or Blu-ray video folder. Other user-oriented designs includes: Overwrite the existing file to overlap the useless temp files, Split Output file to expedient size, Hide small titles for wiping out faked titles, etc.

Play and Watch Blu-ray on the move (Coming Soon)

In the near future, BDlot Blu-ray Ripper will get equipped with conversion ability from Blu-ray to iPhone, iPad, iPod, Android-based HTC phones, Samsung mobiles and tablets, as well as other popular portable gadgets. Imagine that taking a trip with one or two fabulous Blu-ray movies saved on iPhone, iPad or iTouch, you will find out how delightful your journey could be.

High Compatibility and Good Stability Light Your Everyday Life

Being able to run on all Windows operating systems gives more choices to achieve your goals successfully. On the other hand, good stability helps to overcome possible difficulties like scratches and finger prints on your discs. You will be amazed by how well it can work!
The following are all the input/output formats supported by BDLot Blu-ray Ripper:
Supported Blu-ray Copy Protection

Blu-ray encryption (AACS).
BD-ROM Mark.
Blu-ray BD+ copy protection.
User operation prohibition (UOP).
Region Code.
MKB V25 Copy Protection.

Input Blu-ray Formats

Blu-ray Disc, Disc BD-R, BD-RE

Output Blu-ray Formats

Blu-ray Folder, M2TS video file
dotTech Advice
I don't own a Blu-Ray player thus I don't own any Blu-Rays. As such, I cannot provide any advice on a Blu-Ray ripper. Any dotTechies that do own Blu-Rays and that do get this program, please share with us your experience in the comments below.
Disclaimer: Please only use BDLot Blu-ray Ripper legally as defined by the laws of your country/region. Ashraf and dotTech are not responsible for any illegal activity you conduct.
Freebie Details
BDLot Blu-ray Ripper is being given away by BDLot themselves. The giveaway is live until January 16, 2011 11:00 PM PST. There is no information if you can install/reinstall at a later date.
To get BDLot Blu-Ray Ripper for free, do the following:
Version being given out for free: v3.4.0
Free updates and technical support: No
Download size: 5.6 MB
Supported OS: Windows 98/NT/2000/XP/Vista/Win7
Download and install BDLot Blu-ray Ripper.
After installation, run BDLot Blu-ray Ripper and register it with the license code shown below:
License code: BV-VSEYEDJJ-QQMRIP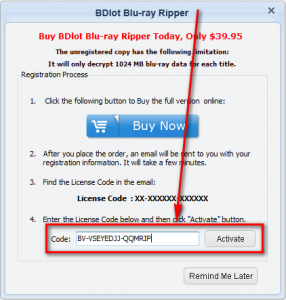 If you have trouble getting BDLot Blu-ray Ripper for free, post below and other dotTechies or I will try to help.
[Thanks Jeanjean!]
Related Posts