Software Description
The following is a description of FarStone TotalRecovery 7 Express, as per the developer:
Express backup technology with No Installation Required!
FarStone's TotalRecovery™ 7 Express is a "Green Application" that provides complete PC backup recovery with no installation required. Simply restart your system and boot into the TotalRecovery™ 7 Express built-in operating system to backup or restore your entire system or files. TotalRecovery™ Express is fast, easy and leaves no imprint on your hard drive!
Instant backup (disk imaging) recovery with no installation required
Seamlessly upgrade to a new hard drive or migrate to a new PC
Retrieve files from a crashed system with the built-in Recovery Manager
Powerful Universal Restore function restores to dissimilar hardware
Go Green! No installation Required!
Benefits & Features
Green application – Backup PCs with no installation required.

Don´t want the hassle of installing another program for backup? With TotalRecovery™ Express, you can execute all your backups and restoration procedures without installing any software!

Simply upgrade and migrate to a bigger hard drive!

Instead of spending hours or days to migrate your data and Windows to a newly purchased hard drive, it takes only minutes for TotalRecovery™ 7 to completely move everything including files, photos, music, application settings, and your operating system.

Save your backups ANYWHERE!

With TotalRecovery™ 7 Express, backups can be saved to almost any storage media device available to you! This includes hard disk drives, network attached storages (NAS), network share folders, CDs/DVDs, and USB hard drives.

Complete System Backup for Windows 7!

Back up everything on your new Windows 7 system with user-friendly User Interface. 

Easily Migrate your HDD to SSD!

Clone everything, including your personal files, Windows system files and all applications on your current hard drive to a Solid State Drive (SSD) in just one click.

Upgrade your Hard drive in a click!

If your current hard drive isn't big enough, TotalRecovery™ 7 Express makes it easy to migrate all of your data, applications, and even your Operating System to a bigger device!

Handy data and file recovery tool to retrieve files from a crashed system! 

TotalRecovery™ 7's Recovery Manager is a powerful utility allowing you to boot into a crashed system by its built-in pre-operating system to rescue your precious files from the non-operational drive. 

Max Speed with Solid State Drive (SSD)!

Total Backup Recovery 7 Workstation clones (moves) your hard drive to SSD drive in minutes so you can avoid spending hours or weeks on reinstalling all programs.

Bare Metal Recovery made easy! 

If Windows fails to start, you can still restore your PC to its previous working state in minutes!

Universal Restore/Dissimilar Restore

Restore to original or different computer (i.e. migrate to a newly purchased computer), or even to a virtual machine without any hassle.

Unique Total File Shredder™ included – securely remove data from outside of Windows

When it does become necessary to completely remove files (i.e, handing a PC off to a new user), any tool used in Windows still leaves traces on your drive – and tracing software can easily be hidden. FarStone's unique Total File Shredder™ is compliant to the US DoD 5220.22-M Standard and securely deletes all traces of sensitive data (such as confidential emails, legal documents, financial data, etc.) from outside of the Windows environment.

Recovery CD/DVD or Restore Image File Creation 

After spending hours or days upgrading your system to Windows 7, capture your PC in perfect condition. You can make a recovery CD/DVD, or an image file for it with only a few clicks.

Built by hands, designed for the heart!

TotalRecovery™ 7 offers you total data disaster backup recovery solution with all the features you need. Some of the more advanced features include preview backup image and RAID supports.
dotTech Advice
Aside from downloading to make sure this freebie is valid, I did not test FarStone TotalRecovery 7 Express so I cannot comment on how good (or bad) it is or give any positive or negative recommendation. However, it is definitely an interesting program.
FarStone TotalRecovery is a a product line of backup software by FarStone Technology. FarStone TotalRecovery 7 Express is a system-level backup program that creates images of your hard drives and/or partitions. The catch here is TotalRecovery 7 Express works from a boot/recovery disk (or bootable USB). In other words, aside from registering the program and creating a bootable disk/USB, you can't use TotalRecovery 7 Express from within Windows. To create (and restore) backups, you need to run TotalRecovery 7 Express from outside Windows, from the bootable CD/DVD/USB that you created. Interesting.
The following chart, created by the developer, shows the features of TotalRecovery 7 Express, as well as compares it to TotalRecovery 7 Pro: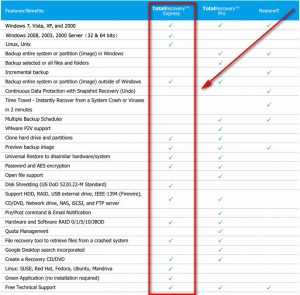 (Click on the chart above to view it in full size.)
Freebie Details
FarStone TotalRecovery 7 Express is being given away in a promotion by Novate Solutions. There is no information on if this promotion is time-limited or not nor if you can install/reinstall after the promotion has ended.
To get FarStone TotalRecovery 7 Express for free, do the following:
Version being given out for free: v7.03.1 Build 20100618
Free updates: Unknown
Free technical support: Unknown
Supported OS: You need to be on Windows 2000 or higher to register the program and create the bootable CD/DVD/USB but afterwards TotalRecovery 7 Express is OS-less — it works outside operating systems and as such can backup and restore any OS partition/hard drive.
Download size: 199.5 MB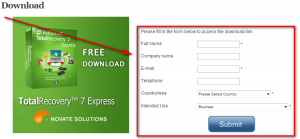 Once you hit Submit, you will be given a license number: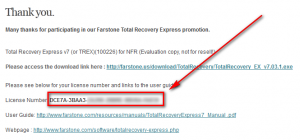 Copy this number and keep it in a safe place — you will need it to register TotalRecovery 7 Express.
Download TotalRecovery 7 Express.
After the download has finished, run the EXE file (TotalRecovery_EX_v7.03.1.exe).
When you run the EXE file it will seem like you are installing TotalRecovery 7 Express. You aren't really "installing" it. Rather, the EXE is extracting files to a temporary folder needed to allow you to register TotalRecovery 7 Express and create the bootable CD/DVD/USB. As such, wait while the files are extracted and until you see a "Thank you" screen. At that screen click on Click here to enter serial number: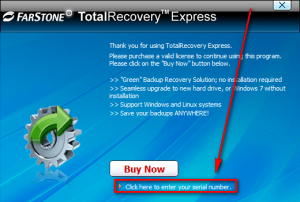 Now you will go through the process of registering and activating TotalRecovery 7 Express. (Don't worry, you don't need to do this everytime you run TotalRecovery 7 Express — just the first time.) It is a fairly straightforward process but if you are confused, these screenshots guide you through step-by-step — follow the red boxes, arrows, and text: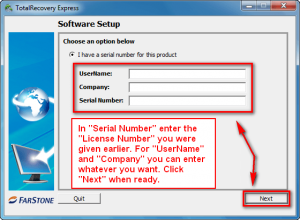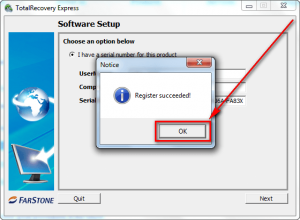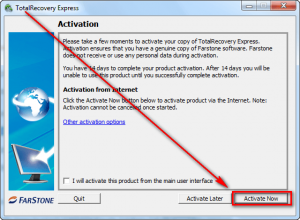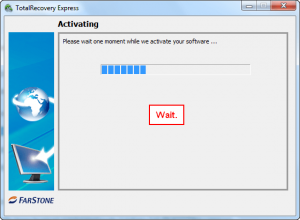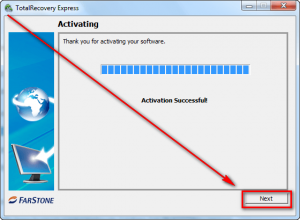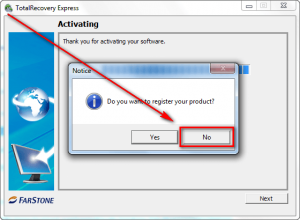 After you past that last screen and see a window that allows you to create bootable CD/DVD/USB or ISO…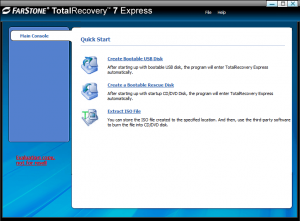 …you are good to go. All you have to do now is create your bootable CD/DVD/USB (or ISO) and start using TotalRecovery 7 Express (from outside Windows — you must boot from the CD/DVD/USB).
If you have trouble getting FarStone TotalRecovery 7 Express for free, post below and other dotTechies or I will try to help.
[Thanks jayesstee!]
Related Posts