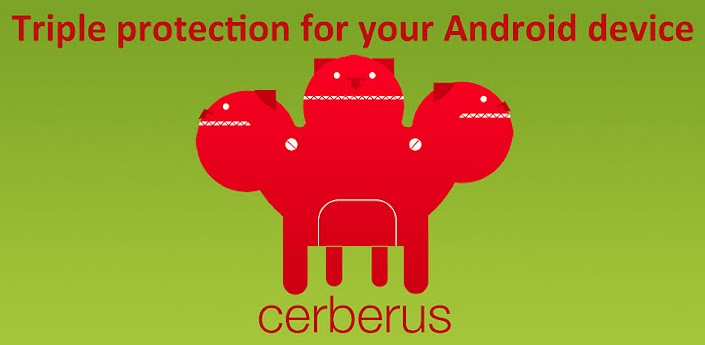 Scared of losing your Android device? That is what anti-theft apps are for. One such anti-theft app that has recently gained some press and positive reviews is Cerberus anti theft. Cerberus is an anti-theft app that helps people recover their Android devices, when lost or stolen; it does this by – obviously – geo-locating devices via GPS but also by allowing Cerberus users to perform remote actions such as remote wipe, remote lock, sound an alarm, send notifications when the SIM card has been changed, record audio from microphone, etc.:
Cerberus has three ways to protect your device:
– Remote control through the website www.cerberusapp.com
– Remote control via text messages
– SIM Checker (for devices that have a SIM card): you will automatically receive alerts if someone uses your phone with an unauthorized SIM card

Remote control allows you to perform many operations on your device, like:
– Locate and track it
– Start a loud alarm, even if the device is set to silent mode
– Wipe the internal memory and the SD card
– Hide Cerberus from the app drawer
– Lock the device with a code
– Record audio from the microphone
– Get a list of last calls sent and received
– Get information about network and operator the device is connected to
– And much more!
[Above description as per developer.]
The following video demos Cerberus:
Pretty cool, no? I especially like the ability to remotely wipe internal memory and SD card.
That said, because of the nature of what it does, Cerberus needs an extreme amount of app privileges to operate on your Android device — permissions ranging from making phone calls, sending texts, internet access, contact data, etc. Personally speaking I don't feel comfortable giving this many privileges to an app unless I know and trust the company behind the app. The company behind Cerberus is LSDroid, a company I don't know and as such can't blindly trust. Now I am not saying Cerberus is malicious or LSDroid is a malicious developer. As I said before, LSDroid has received some positive reviews recently and presumably if it were malicious it would be caught by now due to all the press it is getting. What I am saying is I have not personally downloaded and tried Cerberus so I can't vouch for its quality – or lack thereof, if that is the case. If you decide to give Cerberus a try, feel free to share with the rest of us your experience with the app in the comments below.
Cerberus is usually a paid app. You download it and use its 7 day free trial after which you must pay a one-time fee of €2.99 (about $4 USD) for a lifetime license. However, to celebrate their 100,000th user, for a limited time (the promotion ends 23:59:59 GMT, February 29 2012) the developer is giving everyone lifetime licenses of Cerberus anti theft completely free!
To get Cerberus anti theft for free, do the following:
Version being given out for free: v2.0
Free updates: Yes
Free technical support: Unknown
Supported OS: Android 2.2 and higher
Download size: 573 KB
Download and install Cerberus on your Android device.
Run Cerberus and register an account by picking a username, password, and entering an e-mail address: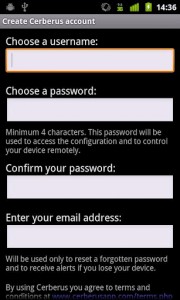 Once you create an account from within the Cerberus app, Cerberus automatically starts using the 7-day free trial. You may even get a message telling you that you are using the trial. That is OK — don't be alarmed. During this free trial Cerberus is fully functional and works like the full version. To turn that 7-day free trial into the full version of Cerberus, visit the promotion page, enter the username and e-mail address you entered earlier when creating an account with Cerberus, and hit Submit: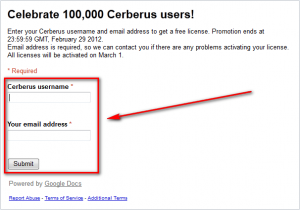 You know you have done it correctly when you get a Your response has been recorded success message.
How this promotion works is the developer of Cerberus will automatically activate lifetime licenses of Cerberus on March 1, 2012 for all people that submitted their usernames and emails through the above-mentioned promotion page. In other words, you won't instantly have a lifetime license of Cerberus after submitting the form on the promotion page. What you need to do is wait until March 1, 2012. Once March 1st comes around, your 7-day free trial of Cerberus will automatically be upgraded to a lifetime license — you need not do anything else, it will happen on its own.
Enjoy!
If you have trouble getting Cerberus anti theft for free, post below and other dotTechies or I will try to help.
[Thanks acr!]
Related Posts