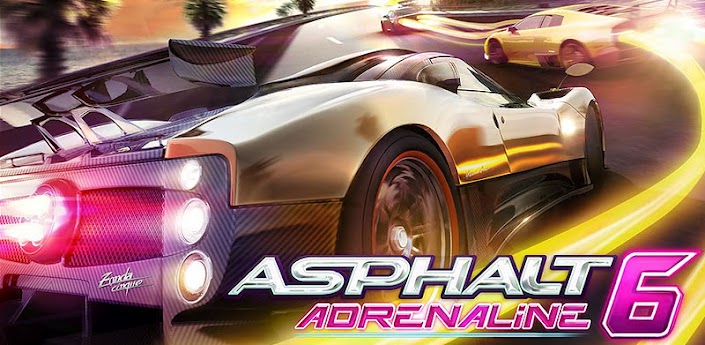 Gameloft is popular for making addictive, visually stunning games for mobile device. For their premium games, Gameloft charges a premium price — typically $6.99 per game, with some games available for $0.99. Asphalt 6: Adrenaline HD is part of Gameloft's popular car racing Asphalt series of games. Asphalt 6 used cost $6.99 but Gameloft recently dropped the price to $0.99. Now you don't even need that one dollar — Asphalt 6 can be had for free via GetJar Gold!
As already mentioned, Asphalt 6 is a racing game for Android. The following is the official description of Asphalt 6 as per Gameloft followed by a short video showing its game play:
Race the world. Feel the adrenaline.

Feel the thrill of arcade racing like never before in the newest adrenaline-pumping game of the Asphalt series.

BUILD YOUR DREAM COLLECTION
Discover 42 cars and bikes from Ferrari, Lamborghini, Aston Martin, Ducati and other world-class manufacturers. Collect them in your own 3D garage.

RACE YOUR FRIENDS
You can even take on friends in Online and Local Multiplayer mode for up to 6 racers. Climb the online leaderboard to be the best in the world!

LEAVE THE WORLD IN YOUR DUST
These street speed races will have you tearing up city streets in L.A., Tokyo, the Bahamas and more. Each location is rendered in beautiful HD graphics.

CHALLENGE THE BEST
Don't take your eyes off the road for a second, because you'll be driving against tough opponents in 11 different leagues and 55 events.

TUNED TO PERFECTION
Take advantage of numerous tuning options to help your vehicles reach peak performance on any track. You can even customize your vehicles with decals to give them your own style.
Seeing as how graphically intensive it is, Asphalt 6 is intended for high-end Android devices. You are more than welcome to try it on a mid-range or low-end device, but you may get choppy game play, if it runs at all. Also note after installing Asphalt 6 you will need to download a large game pack before you can play the game. This game pack is around 300 MB (if I remember correctly — I downloaded it a long time ago), so make sure you have an active WiFi connection or are on an unlimited data plan.
You can grab Asphalt 6: Adrenaline 6 HD from the GetJar Gold section of your GetJar app (if you have it installed already) or hit up the link below on your mobile phone to download the GetJar app and then download Asphalt 6: Adrenaline 6 (you will be prompted to download the GetJar app when you try to download Asphalt 6: Adrenaline 6 from the website):
Asphalt 6: Adrenaline 6 HD [GetJar Gold]

Asphalt 6: Adrenaline 6 [Android Market]
Related Posts