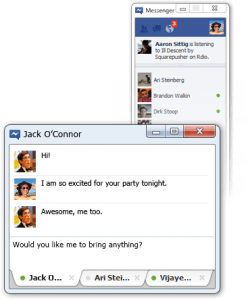 You use Facebook on a daily basis and whenever you are online someone messages you over Facebook Chat. Often times this gets in the way ofwhat you are doing whether it is posting on a group, playing a game, or even saying "happy birthday" to your aunt; you don't hate Facebook Chat but you would must rather it not be attached to Facebook.com. Or, alternatively, you enjoy using Facebook Chat but dread the fact that you must be on Facebook.com to use it. A solution for both these problems is you can use instant messaging programs like Digsby, Pidgin, or Trillian; and they seem to work pretty well for that purpose. Now you have another option because Facebook has finally released their Facebook Messenger program for Windows.
WHAT IT DOES AND HOW TO USE IT
Just like any other instant messenger, with Facebook Messenger you see your friends online and you can chat with them in separate windows with ease. In addition to traditional IM'ing, Facebook Messenger is tied to your Facebook account (duh) so Facebook Messenger provides information about updates to your account, such as new friend requests, new messages, and even new notifications such what people or pages have posted to your home screen — all in real time. All this is found near the top of the Facebook Messenger main window
At the bottom of the program there is a search bar that will narrow down your contact list via a query of any set of letters, words, or phrases that are in the name or page you are looking for:

The gear icon next to the search bear allows you to access options from where you can do things like turn the chat sounds off, hide offline, or you can log off from Facebook Messenger. The last button – which is the right of the gear icon – docks Facebook Messenger to the right side of the desktop rather than float in the middle of the screen.
Once you start chatting with someone in the chat window, you might get someone else that wants to chat. When the new chat starts, you will get a new tab at the bottom of the chat window so you can flip from one conversation to another without having to go from one window to another like some other instant messaging programs:
Another useful aspect of Facebook Messenger is that when there is any activity on your Facebook account, you get a pop up notification telling you stuff like who did what and when they did it; and this notification even serves as a link to the post the notification is about — just click on it and it will take you to the relevant page on Facebook.com at that time:

If you end up closing messenger (but not exiting/logging off), the messenger minimizes to the system tray, and you may have to access it by the triangle on the left side of the system tray.
WHO CAN GET FACEBOOK MESSENGER?
If you enjoy Facebook Chat, Facebook Messenger is a handy tool. There is only one problem. At this moment in time, Facebook Messenger for Windows runs on Windows 7 only. If you want Facebook Messenger for Windows, you must have Windows 7 as your operating system. If you use anything lower (i.e. Windows XP or Vista), you will have to wait until Facebook makes a version for those operating systems. Facebook Messenger may or may not work on Windows 8.
If you try to install Facebook Messenger on an unsupported operating system, such as Windows XP, instead of getting an Install Now button, you get a Learn More button which takes you to Facebook's Help where you get to read Facebook's nice little message on how you cannot install on your particular OS:
If you use Windows XP, Windows Vista, Mac or another operating system, you won't be able to install the app [Facebook Messenger] at this time. We're working on making the app available for more operating systems, so stay tuned.
Hopefully Facebook will release Facebook Messenger for all the other Windows users very soon; we will keep our eyes peeled until that day arrives.
CONCLUSION
Facebook Messenger makes chatting with your Facebook friends easier and more convenient than being tethered to Facebook.com as you are with Facebook Chat; and you can keep up with any new activity, such as new posts, that is made whenever you aren't Facebook thanks to the cool popup notifications. Facebook Messenger makes instant messaging the way it should be — separate from the web browser and in a program of its own.
You can grab Facebook Messenger from the links below:
Version reviewed: Unknown
Supported OS: Windows 7
Download size: 481 KB
Malware status: VirusTotal scan results (2/42)
Facebook Messenger homepage [direct download]
Related Posts